We encounter patients who ask about uterine fibroids and pregnancy. Fibroids can make it difficult for you to get pregnant. In addition, they can increase your chances of a difficult pregnancy or miscarriage. However, it's important to note that some women with fibroids do have a healthy pregnancy.
Fibroids and Pregnancy: The Connection
Fibroids are diagnosed in women between the ages of 35 and 54 but can occur in women younger than 35 and until menopause. They develop in and around the uterus, which, as you know, is where your baby grows. Depending on your situation, you may have one or several. Furthermore, fibroids could all differ in size and grow at different rates.
It's that size, location, and growth rate that can affect a pregnancy.
How Fibroids Can Affect Pregnancy
Creating changes in the cervix's shape
Reducing the number of sperm that can enter the uterus
Stopping a fertilized egg from implanting properly in the uterus
Dangerously affecting the baby's positioning
Limiting blood flow to the placenta, causing miscarriage
Abnormal blockage of the fallopian tubes
Premature birth
Abnormal blood loss during delivery
Increasing the chances of a cesarean section
The good news about uterine fibroids and pregnancy is that while many women develop fibroids in their lifetime, only 20% have symptoms. Therefore, pregnancy complications resulting from fibroids are generally not an issue. According to the American Society for Reproductive Medicine, fibroids are only found in 2% to 12% of pregnant women. Furthermore, most fibroids do not become too large or cause problems like the ones mentioned above. If a fibroid grows, it usually does so in the first 12 weeks of pregnancy.
Why do I keep hearing that fibroid removal can hurt my chance of pregnancy?
While millions of women with fibroids have normal pregnancies, there's always a "but." Fibroids are still one of the many common causes of infertility and complications in pregnancy. Therefore, the uterine fibroids and pregnancy conversation with your doctor should still be taken seriously—especially if you are experiencing painful fibroid symptoms. This is true whether you're actively trying to get pregnant or might want to have children in the future.
So can you remove painful fibroids and still get pregnant? Yes, with the right approach.
Longtime go-to fibroid procedures like a hysterectomy are not only surgically-invasive, but they are not the right option for women seeking future pregnancies. A hysterectomy removes all or part of a woman's uterus and, in some cases, the fallopian tubes and ovaries. Other procedures like endometrial ablation remove the inside lining of the uterus to reduce heavy bleeding and are also not the right approach.
Below are two procedures that can remove or shrink fibroids and still allow you to get pregnant*.
Uterine Fibroid Removal Options
Myomectomy
A myomectomy is for women who need to remove fibroids but still want to get pregnant. In simple terms, a myomectomy removes fibroids from the uterus while leaving the uterus in place. This can sometimes be performed through the vagina, but it usually involves surgical incisions in the abdomen or pelvis. The number, size, and positions of the fibroids determine whether they can be removed laparoscopically through several small incisions or whether a larger incision is required.
Approximately 30,000 myomectomy surgeries are performed annually. Many patients say they no longer experience fibroid pain and symptoms. The typical recovery time is 2-6 weeks. However, it eliminates the ability to have a vaginal birth in the future. Most gynecologists insist on C-section after myomectomy.
Uterine Fibroid Embolization (UFE)
Sometimes, a woman is not considered a good candidate for surgery. Or, she is unwilling to have surgery. This is where UFE comes into play, as it is commonly used to treat symptoms of fibroids without surgery. The best part is that it is 90% effective. Uterine Fibroid Embolization shrinks fibroids and offers quicker recovery time—all while ridding you of fibroid pain. A few additional advantages of UFE include:
No hospital stay
Shorter recovery period, one week in some cases
No incision
No scarring
Dramatic reduction in fibroid symptoms
*What about Miscarriage Rates?
Many women don't realize that 1 in 3 pregnancies around the world end in miscarriages. That 33% is the baseline—even without fibroids in the picture. Current research shows that UFE may increase odds of a miscarriage.
There was a study of women who needed fibroid treatment and wanted to get pregnant. It was a randomized trial—some women had a myomectomy and some had UFE. Results of the study were: The best chance of getting pregnant was in the myomectomy group. The best chance of having a live baby was also in the myomectomy group. The best chance of miscarriage was in the UFE group. The miscarriage rate in the myomectomy group was about 25%. The UFE miscarriage rate was about 65%.
That's a big difference. With that said, the UFE front does have more research to consider.
There was another study done more recently with women who were trying to get pregnant for two years unsuccessfully. There was no reason for their infertility other than fibroids. In those cases, the women either weren't a candidate for myomectomy (too many fibroids or it wasn't safe to take them out), or they refused surgery. They were instead offered UFE. In that group, 40% got pregnant and 36% had a healthy baby. Therefore, this shows growing evidence to support a lower miscarriage rate for UFE than previously believed. With more research we may see miscarriage rates between UFE and myomectomy balance out in the future.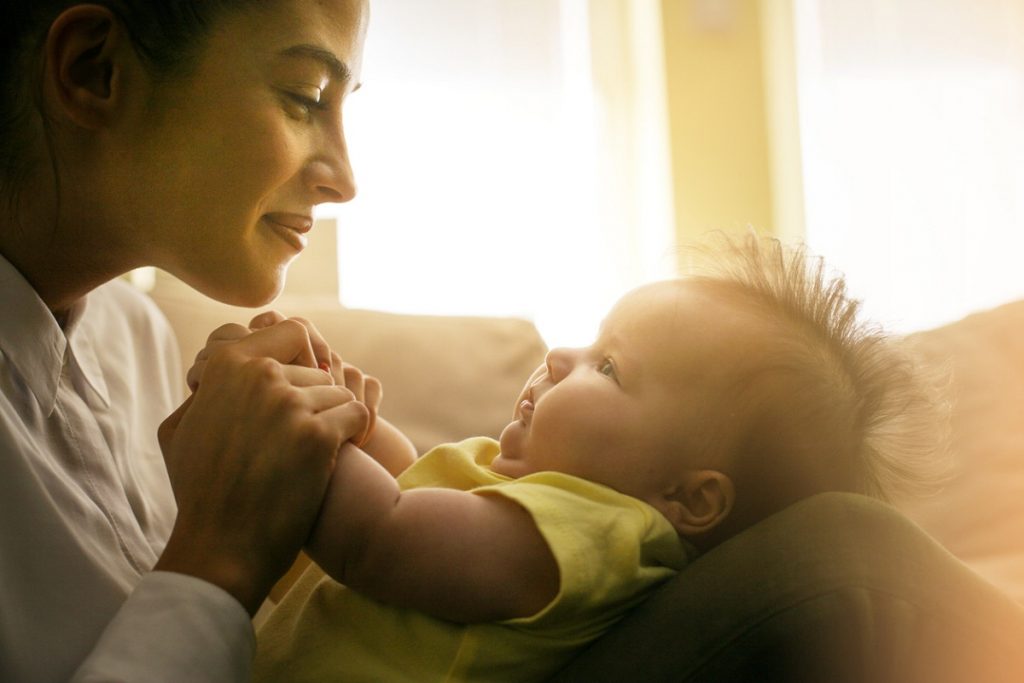 Dr. Slonim Wrote the Book on Fibroid Treatment
Dr. Slonim is the #1 most experienced fibroid doctor in Dallas/Fort Worth specializing in Uterine Fibroid Embolization (UFE). She is a national advocate for fibroid treatment without surgery and author of the book "Pain-Free Periods: Banish Menstrual Misery, Fight Fibroids, and Get Your Life Back". Dr. Slonim founded Fibroid Institute Dallas and the #FibroidFree movement to relieve women of painful fibroid symptoms and educate them on treatment options other than hysterectomy.
Fibroids and pregnancy is a huge topic of conversation for women with fibroids who are pregnant or want to have a baby in the future. UFE is not typically recommended for women wanting to get pregnant. If you have a unique situation, Dr. Slonim may evaluate you on a case by case basis. Call for a telehealth consult or an in-office appointment at 214-838-6440 or complete the form below.
Studies Sources
Spontaneous Pregnancy with a Live Birth after Conventional and Partial Uterine Fibroid Embolization – https://pubs.rsna.org/doi/10.1148/radiol.2017161495
Midterm Clinical and First Reproductive Results of a Randomized Controlled Trial Comparing Uterine Fibroid Embolization and Myomectomy – https://www.ncbi.nlm.nih.gov/pmc/articles/PMC2700241/
Fibroid Institute Dallas serves the DFW area including Garland, Mesquite, Richardson, Addison, Carrollton, Plano, Allen, Dallas, Duncanville, DeSoto, Cedar Hill, Lancaster, Cockrell Hill, Grand Prairie, Arlington, HEB, Fort Worth, Hutchins, Irving, Highland Park, University Park, Park Cities, and all of North Texas.
This information is not a substitute for professional medical advice. Prior to starting any new treatment or questions regarding a medical condition, always seek the advice of your doctor or other qualified health provider.