Mona* has been worried about her periods for the last few years and what she calls abnormal period blood clots. She's passed clots every so often and thought nothing of it because they were small and painless. But lately, she's experienced cramping on one side—almost like contractions—right before a blood clot gushes out. Sometimes, the blood clots are really big. On top of that, she has an upset stomach, lower back pain, and other uncomfortable symptoms. Given the frequency of the blood clots and the pain, she's worried something is wrong.
Granted, no woman looks forward to her period—especially when adding in the cramps, bloating, headaches, and more. Even smaller period blood clots are a normal part of the menstrual process. But when those blood clots get larger, more consistent, and are accompanied by other symptoms like Mona's, it's time to find out what the culprit is and seek the appropriate treatment.
Are You Experiencing These Symptoms?
Heavier than normal bleeding or clotting
Period blood clots as big as a quarter or larger
Bleeding that requires frequent pad changes (every 1-2 hours)
Abdominal cramps
Back pain
Low energy levels
There are many potential causes for period blood clots, including uterine fibroids. The good news is that this condition and several others discussed in this article can be treated effectively so you can live a symptom-free life.
What Are Period Blood Clots?
Period blood clots are described by patients and healthcare professionals as gel-like clumps of blood and tissue that resemble pieces of mashed-up fruit or stewed strawberries. They can vary in color from bright to dark red. More often than not, they are nothing to worry about. For one, blood can coagulate (changes from a liquid to a solid or semi-solid state) in the uterus or vagina as the uterine lining is being shed. As a result, a woman will pass clots.
Secondly, menstrual consistency can vary at any time, sometimes during the same period. A "normal menstrual flow" typically lasts three to eight days and occurs every 22 to 38 days, with the menstrual cycle counted from the first day of one period to the first day of the next. It also consists of less than 80 ml of blood per menstrual cycle. That's about the amount contained in a small Dixie cup. With that said, your period one month might be lighter and turn heavier later in the process.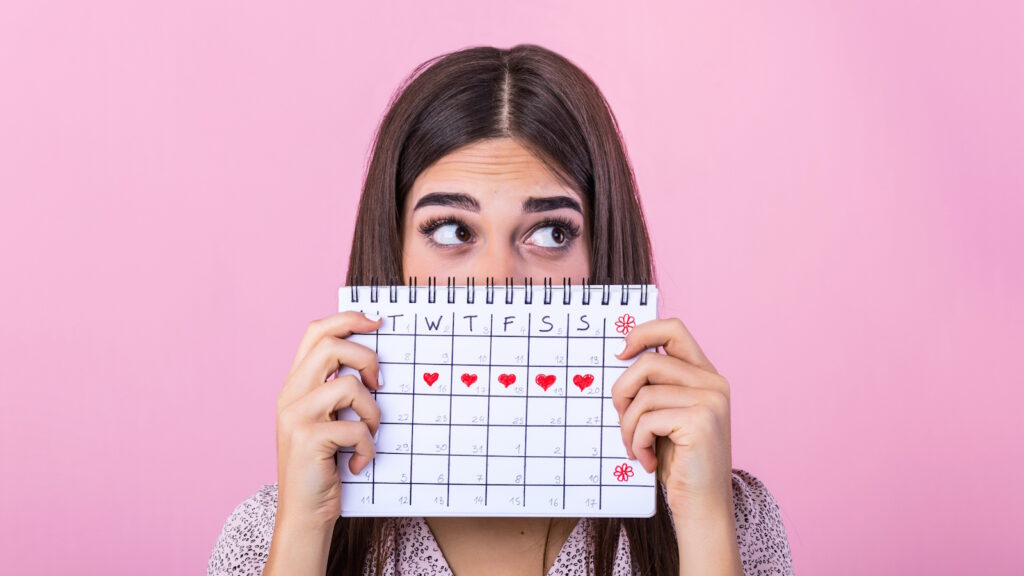 Some women have heavy periods within the first two years of puberty that subside on their own. Then again, others don't. Furthermore, some women experience bloating, cramping, clotting, and pain, and others may have good and bad months.
Anything excessive beyond what is listed above is considered heavy bleeding, as each soaked normal-sized tampon or pad holds a teaspoon (5 ml) of blood. About one-third of women seek treatment for heavy periods and period blood clots. Additionally, there are several potential causes to explore and rule out.
7 Potential Causes of Period Blood Clots
Endometriosis — This condition affects an estimated 176 million women in the world during their reproductive years, typically between the ages of 15 and 49. It is characterized by uterine tissue developing outside the uterus. This overgrowth of tissue can affect the ovaries, fallopian tubes, and pelvic tissue and lead to period blood clots.
Adenomyosis — Adenomyosis is a benign disease of the female reproductive system where endometrium (tissue that normally lines the uterus) also grows inside the muscular walls of the uterus (myometrium). As a result, your uterus will thicken and may double or triple its normal size. Common adenomyosis symptoms include heavy or prolonged menstrual bleeding, bleeding between periods, passing blood clots during a period, and abdominal pain.
Uterine Fibroids — Period blood clots and heavier-than-normal-menstrual bleeding can also signify complications such as fibroids. These are non-cancerous growths inside a woman's uterus. They can differ in size and either stay that way or grow at different rates. Researchers estimate that 70-80% of all women develop fibroids, and most patients are between the ages of 35 and 54.
Polycystic Ovarian Syndrome (PCOS) — This condition is caused by an imbalance of reproductive hormones that create problems in the ovaries, leading to missed or irregular periods and blood clots.
Thyroid conditions — The thyroid is a butterfly-shaped gland in your neck responsible for producing hormones and controlling many activities in your body, including heart rate, body temperature, breathing, menstrual cycles, your central and peripheral nervous systems, and more. Hypothyroidism, also referred to as an under-active thyroid, is of particular concern for women, as 1 in 8 will develop thyroid problems during their lifetime. In women, hypothyroidism can cause several health problems, including period blood clots.
Birth control — Though the risk is small, combination birth control pills that contain estrogen and progestin can increase your risk of period blood clots since estrogen promotes thickening of blood and clotting.
Medication — If you notice an increase in period blood clots, take note of which medications you're taking. Many anti-inflammatory and hormonal medications can lead to abnormal menstrual bleeding and flow.
What If Fibroids Are the Source of My Period Blood Clots?
Some women don't experience symptoms from fibroids, but those who do can have debilitating pain ranging from pelvic pain and pressure to back and leg pain, constipation, pain during sex, and yes, heavy menstrual bleeding, irregular periods, period blood clots, and heavy periods.
The good news is that fibroids are very treatable without the need for invasive surgery. In today's world of evolving technology, Fibroid Institute Texas is dedicated to treating fibroids and reducing fibroid symptoms using uterine fibroid embolization (UFE). The gold standard in non-surgical fibroid treatment, UFE is a safe and effective non-invasive procedure. Using image-guided interventional radiology, during UFE small particles are introduced through the uterine arteries into the fibroid vessels, blocking the blood flow to the fibroids. By cutting off blood flow to all fibroids, the fibroids shrink and die.
Fibroids are so common that if you have several fibroid symptoms, your chance of having one or more uterine fibroids is high. To know for certain, your doctor or gynecologist will conduct a few tests to find out. When performed by the board-certified interventional radiologists who specialize in UFE at Fibroid Institute Texas, many patients experience a high success rate with minimal discomfort.
Benefits of UFE for patients of Fibroid Institute include:
Procedure typically completed in under an hour
In-office procedure instead of hospital stay
Recovery time is 7-10 days
Tiny wrist puncture, no need for vaginal access
Avoid side effects of pharmaceutical hormone therapies
All fibroids may be treated at the same time
No incisions, which means no surgical scarring
Over 90% of patients see dramatic improvement in symptoms
Get Relief from Period Blood Clots Caused By Fibroids
Many women don't know what to consider normal or abnormal when it comes to their monthly period. As a result, they continue on, unaware their period blood clots aren't normal. If you believe this may describe you, it is a good idea to take a consultative approach with your doctor and determine the best course of action for you.
At Fibroid Institute, we understand how uterine fibroids can impact your life. We also understand that fibroid symptoms may run the gamut and be difficult to explain. Fibroid Institute, with Dallas and Houston fibroid doctors, has helped thousands of women find relief from fibroid symptoms. Most major medical insurance providers cover the cost of UFE.
Begin your #fibroidfree journey with a simple 10-15 minute phone screening to see if you qualify for UFE. After the screening, if you are eligible for UFE, you can schedule your onsite or telehealth consultation. Get started now by completing the form below or by calling our Dallas fibroid centers at 214-838-6440 or Houston fibroid centers at 713-903-3733.
This information is not a substitute for professional medical advice. Prior to starting any new treatment or if you have questions regarding a medical condition, always seek the advice of your doctor or other qualified health provider.
Fibroid Institute Texas serves the Dallas and Houston areas including Addison, Carrollton, Plano, Frisco, Craig Ranch, McKinney, Allen, Fort Worth, Grand Prairie, HEB, Arlington, Hutchins, Irving, Duncanville, DeSoto, Cedar Hill, Lancaster, Cockrell Hill, Highland Park, University Park, Park Cities, Garland, Mesquite, Richardson, Dallas, Sherman, Houston, Sugar Land, Katy, Webster, Clear Lake, The Woodlands, Universal City, Spring, Kingwood, Stafford, Conroe, Texas City, Cypress, League City, Bellaire, and more.
*Patient stories are true. Names and/or photos may be changed to protect patient confidentiality.