Many women living with uterine fibroids quickly learn these can cause a variety of symptoms that dramatically impact their quality of life. And if you ask them, we bet the majority point to common issues such as painful periods, heavy menstruation, bloating, pain during sex, and debilitating cramps. But no two women's symptoms are the same or as predictable. For some, a lesser-talked about symptom that can be just as frustrating and debilitating is fibroid back pain—especially in the lower back. And it affects more women than you might think.
It's important to note that not all fibroids are painful by themselves. It's their size, growth rate, and location that can lead to problems. If a fibroid presses against internal organs and nerves—including the muscles and nerves in the lower back—a woman can experience fibroid back pain.
Are You Experiencing Any of These Symptoms?
Dull or achy pain in the lower back like a strained muscle
Stiffness that never seems to let up
Pain that worsens after sitting or standing for too long
Muscle spasms
Pain that radiates down your hips and legs
Leg numbness or pins and needles sensations
Difficulty standing up straight or walking
Limited mobility
General weakness in the lower back
The Link Between Fibroids and Lower Back Pain
Almost everyone experiences some kind of back pain in their lifetime. It could be from an injury to the muscles or tendons in the back, or the culprit could be postural problems, arthritis, structural problems, inflammation, obesity, etc. Back pain can range from minor to severe and can also come and go depending on the individual. In many cases doctors recommend over-the-counter medications, physical therapy, and even good old-fashioned rest to facilitate relief. The problem for women with fibroids is that their lower back pain can't be attributed to any of these possible causes. On top of that, the pain only gets worse and can be accompanied by other fibroid symptoms that dramatically impact their quality of life.
While typical bleeding symptoms seem to be talked about more, the National Library of Medicine found that non-bleeding symptoms are still a substantial burden among women with fibroids. In one study, they found that more than 60% of women with uterine fibroids reported fibroid back pain along with constipation, bloating, and diarrhea.
So why is this? Some symptoms associated with fibroids can be tied to where they are located, their size, and how many fibroids are present. Uterine fibroids that grow on the back side of the uterus can protrude just enough that they exert pressure on the lower spine. As a result, nerves can easily be pinched and cause everything from localized pain in the lower back to radiating pain that shoots down the legs and involves the hips.
The Office on Women's Health breaks fibroids down into four main types depending on location.
Intramural fibroids — These grow inside the muscles of the uterine wall.
Submucosal fibroids — Fibroids that protrude underneath the uterine lining and into the uterine cavity.
Subserosal fibroids — These tend to grow just outside the uterine walls.
Pedunculated fibroids — These fibroids hang by a thin thread or stalk inside or outside the uterus.
Any of these fibroid types can create a domino effect that can lead to a variety of symptoms—including back pain. But subserosal and intramural fibroids tend to cause fibroid back pain the most. Subserosal fibroids protrude outward and can compress nearby organs that will eventually radiate down to the lower back.
Intramural may grow inside the uterus, but as they grow, they can cause the uterus to expand. As a result, pressure is exerted on neighboring organs—thus leading to the possibility of fibroid back pain.
Can My Doctor Determine if My Back Pain is Fibroid Related?
Like previously mentioned, back pain can be caused by a variety of conditions or situations not related to fibroids. But fibroids are so common that if you have several fibroid symptoms, your chance of having one or more uterine fibroids is high. Therefore, it would be wise to visit with your doctor to explore the presence of fibroids, their size, and their location. Your gynecologist can take note of the history of your symptoms and may discover one or more fibroids during a routine pelvic exam. This is because fibroids often cause the uterus to become larger.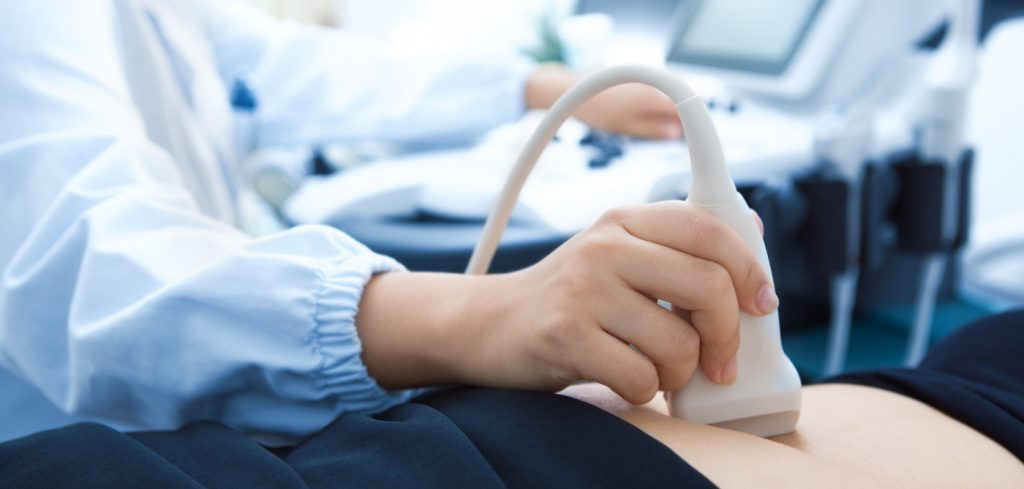 From there, the simplest and quickest way to look for fibroids with imaging is through a pelvic ultrasound. An ultrasound can show if you have fibroids in your uterus and give a general idea of the size of each one. However, MRI is the best imaging technique because it clearly shows fibroids that are not visible on ultrasound and provides the most detail when it comes to the size and position of the fibroids.
How Can I Stop My Fibroid Back Pain and Other Symptoms?
Many women simply want relief from their uterine fibroid symptoms—whether it's fibroid back pain or something else. Although a gynecologist may recommend fibroid surgery, procedures like a hysterectomy are not always the right option for every woman. This is because a hysterectomy removes all or part of a woman's uterus and, in some cases, the fallopian tubes and ovaries.
At Fibroid Institute Texas, we specialize in uterine fibroid embolization (UFE). And when we say specialize, we mean we are entirely focused on providing women with non-surgical fibroid treatment. Our fibroid doctors are experts in UFE, as it is a procedure we do every day for our patients. UFE is unique because of its ability to treat uterine fibroid symptoms, regardless of where they are located, without having to go through a painful surgery and lengthy recovery time. Rather than fibroid removal, UFE delivers small particles through a tiny catheter at the wrist with image-guided interventional radiology. The particles block blood flow to the fibroids causing them to shrink and die so that you can get back to your lifestyle and normal activities quickly. As a result, you have a quicker recovery time.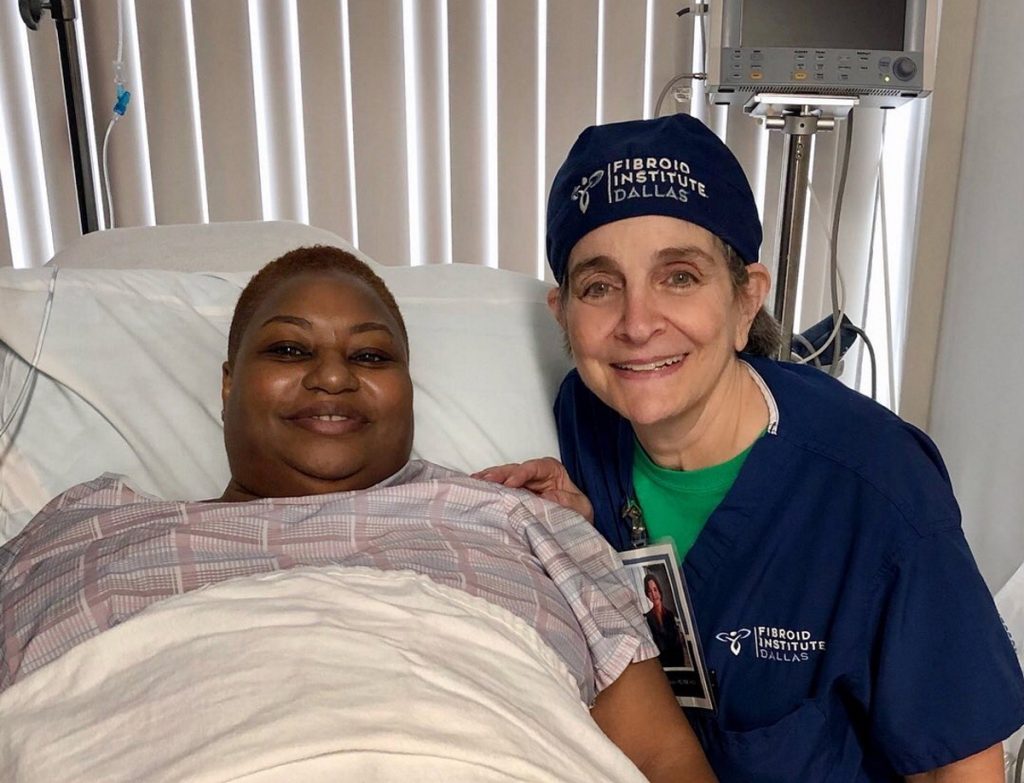 Advantages of UFE at Fibroid Institute
No incision and no scarring
In-office procedure instead of hospital stay
Recovery time only 7-10 days versus 4-6 weeks for surgery
All fibroids may be treated at the same time
Uterus remains preserved
Less risk than fibroid surgery
Over 90% reduction in fibroid-related symptoms
As days, weeks and months go by after UFE, you'll notice that many of your uterine fibroid symptoms are disappearing or drastically getting better. This includes fibroid back pain.
Let Fibroid Institute Help with Your Fibroid Back Pain
At Fibroid Institute, we understand how uterine fibroids can impact your life. We also understand that fibroid symptoms may run the gamut and be difficult to explain. This includes back pain, which at first glance many women might not associate with fibroids. This is especially true if it's their only symptom. So, they wait and ultimately, the symptoms get worse and are accompanied by other issues.
This is where we can help. Our team of experts—with fibroid doctors in Dallas and Houston areas—can guide you toward the best approach. The gold standard in non-surgical fibroid treatment, even if you have fibroid back pain, is uterine fibroid embolization (UFE). Request a free 10-15 minute phone screening to check if you are a candidate.
After the screening, if you are eligible for UFE, you can schedule your onsite or telehealth consultation. At Fibroid Institute Dallas, we are dedicated to helping you become #FibroidFree. Call for an appointment at our Dallas fibroid clinics at 214-838-6440 or Houston fibroid clinics at 713-903-3733 or complete the form below.
Fibroid Institute Texas serves the Dallas and Houston areas including Highland Park, University Park, Park Cities, Garland, Mesquite, Richardson, Dallas, Sherman, Houston, Sugar Land, Katy, Webster, Clear Lake, The Woodlands, Universal City, Spring, Kingwood, Stafford, Conroe, Texas City, Cypress, League City, Bellaire, Addison, Carrollton, Plano, Frisco, McKinney, Allen, Fort Worth, Grand Prairie, HEB, Arlington, Hutchins, Irving, Duncanville, DeSoto, Cedar Hill, Lancaster, Cockrell Hill, and more.
Prior to starting any new treatment or if you have questions regarding a medical condition, always seek the advice of your doctor or other qualified health provider. This information is not a substitute for professional medical advice.
*Patient stories are true. Names and/or photos may be changed to protect patient confidentiality.