Maggie has known for a while that she has uterine fibroids. Her gynecologist detected them during a routine exam a few years ago, but she was never in any pain until recently. The problem in Maggie's case is that she also has a separate gynecological condition called endometriosis that can present similar symptoms. After consulting with her doctor about fibroid surgery and researching other fibroid treatment options, Maggie is considering uterine fibroid embolization (UFE). This led her to wondering, can a woman be a candidate for UFE if she has fibroids and endometriosis?
The short answer is yes. UFE can safely treat a woman's fibroid symptoms even if she also has endometriosis. But it's important to note that while fibroids will no longer be an issue because of the UFE procedure, her endometriosis symptoms won't improve. This is why it's best to know the difference between fibroids and endometriosis so that you and your doctor can pursue the best fibroid treatment options for your unique situation. For women with endometriosis and fibroids, decisions about treatment options must involve a team approach to include your gynecologist and any other fibroid treatment provider.
Fibroids and Endometriosis: An Overview
Uterine fibroids are non-cancerous growths that develop from muscle tissue of the uterus. The majority of women are diagnosed in between the ages of 35 and 54. Although women younger than 35 and older than 54 can have fibroids too. Depending on your situation, you may have one or several. In addition, they could all differ in size and either stay that way or grow at different rates. The growth factor is of particular concern to women since uterine fibroids can continue to grow, becoming large and uncomfortable.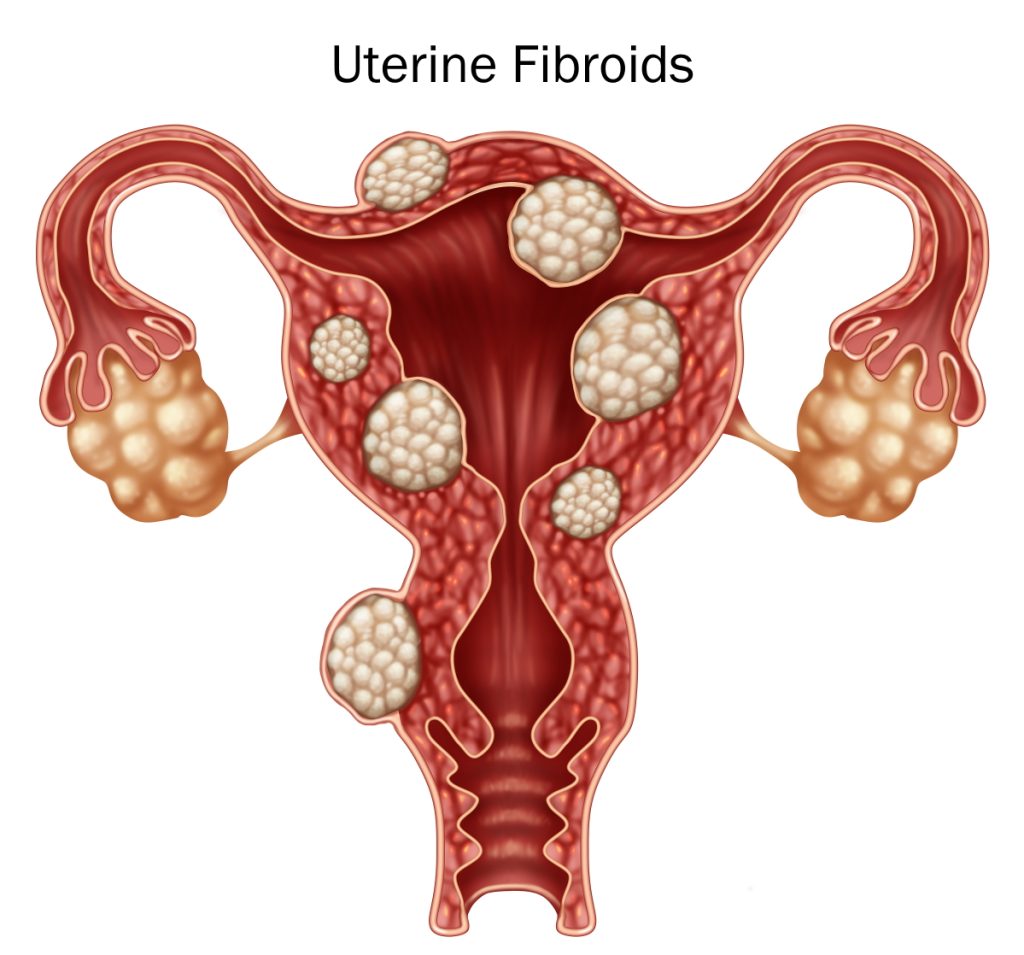 According to the Office on Women's Health, the hormones estrogen and progesterone stimulate the development of the uterine lining during each menstrual cycle in preparation for pregnancy. This causes fibroids to swell, and the result can be a slew of painful or simply annoying symptoms that affect your quality of life.
Fibroid Symptoms Include
Heavy menstrual bleeding
Bloating and swelling
Unexplained weight gain
Periods that last longer than a week
Pelvic pain or pressure
Pain during sexual intercourse
Urinary frequency
Back or leg pain
Constipation
Endometriosis is a medical condition that affects an estimated 176 million women in the world during their reproductive years, typically between the ages of 15 and 49. This condition is similar to fibroids in that it also affects the uterus and can be completely painless to some women and debilitating to others. Endometriosis and even adenomyosis are fed by estrogen. Nevertheless, endometriosis is very different in that bits of the uterine lining or tissue similar to the lining inside the uterus (endometrium) grows outside the uterus.
This overgrowth of tissue can also affect the ovaries, fallopian tubes, and pelvic tissue. Unlike fibroids, menopause may not resolve endometriosis. Below are a few symptoms to be aware of.
Endometriosis Symptoms Include
Pelvic pain and pressure
Constant fatigue
Heavy menstrual bleeding
Painful ovulation
Difficult urination or bowel movements
Pain during sex
Infertility
Are Fibroids and Endometriosis Treated the Same or Differently?
As previously mentioned, women can have fibroids and endometriosis at the same time. In fact, one study determined that uterine fibroids were detected in 25.8% of patients with endometriosis. Also, endometriosis was detected in 19.6% of patients with uterine fibroids. Furthermore, 5.5% of women undergoing sterilization had endometriosis, and 19.3% had uterine fibroids. Granted, this was a smaller sampling because the women in the study were all undergoing tubal sterilization. Regardless, the study proves symptomatic fibroids and endometriosis can appear together. This makes a proper diagnosis that much more important.
Fibroids vs Endometriosis Diagnosis
Fibroids – Can be diagnosed through a physical exam, ultrasound, CT, or an MRI.
Endometriosis – This condition is only visible with imaging if there are big clips of abnormal tissue. If this is not the case, and it rarely is, laparoscopy can be used to ensure a definitive diagnosis.
While fibroids can be treated through a variety of methods, including UFE, hysterectomy, and myomectomy, endometriosis is typically treated with medications or a course of hormone therapy to reduce pain and attempt to slow the growth of the endometrial tissue. Laparoscopic surgery may also be called on to manipulate and remove tissue. Laparoscopy can be used to assess endometriosis and potentially remove fibroids at the same time, therefore consulting with your gynecologist on this issue is key. In cases of severe endometriosis hysterectomy is often recommended.
UFE Can Help with Fibroid Symptoms
Even if you have fibroids and endometriosis, you still need a solution for your painful uterine fibroid symptoms. Uterine fibroid embolization (UFE) is a unique, low-risk procedure because it treats fibroids without having to go through an invasive surgery and lengthy recovery time. With UFE, small particles are injected through a tiny catheter at the wrist using image-guided interventional radiology. The particles are introduced through the uterine arteries into the fibroid vessels, blocking the blood flow to the fibroids. By cutting off blood flow to all fibroids, the fibroids shrink and die so that you can get back to your lifestyle and normal activities quickly.
Advantages of UFE include:
Covered by most major medical insurance
No hospital stay
Shorter recovery period (average of one week)
No incision
Uterus is spared
Treats multiple fibroids at once
Over 90% effective in reducing symptoms
Knowing everything you possibly can about fibroids and endometriosis plus having regular checkups will help you and your doctor determine the right course of action and avoid potential complications in the future.
Get Help for Fibroids with Fibroid Institute Dallas
Fibroid Institute Dallas is the go-to source for educating patients about uterine fibroids and minimally invasive procedures such as UFE. Dr. Suzanne Slonim at Fibroid Institute Dallas is the fibroid expert you need in your corner.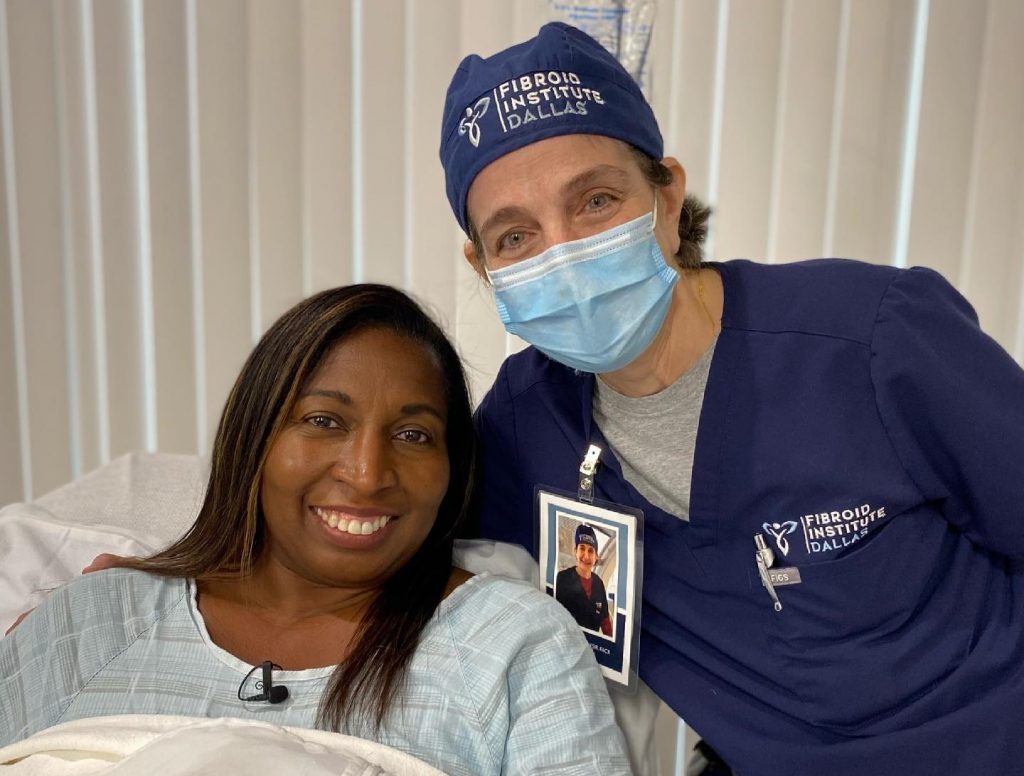 At Fibroid Institute Dallas, we are dedicated to helping you become #FibroidFree. Request a free 10-15 minute phone screening to determine if you are eligible for fibroid treatment without surgery. After the screening, if you qualify for UFE, you can schedule your onsite or telehealth consultation.
State-of-the-art equipment at our Fibroid Institute Dallas North office offers availability of onsite ultrasound and MRI imaging, allowing for a much more efficient evaluation of each patient's candidacy for UFE. Depending on insurance, a patient can have her MRI and be seen immediately afterward, even possibly get scheduled during the same visit for her UFE. Most major medical insurance providers cover the cost of UFE.
Thousands of women have had their fibroids symptoms treated with UFE. Get started now by calling 214-838-6440 or completing the form below.
Fibroid Institute Dallas serves the DFW area including Fort Worth, Grand Prairie, HEB, Arlington, Hutchins, Irving, Duncanville, DeSoto, Cedar Hill, Lancaster, Cockrell Hill, Highland Park, University Park, Park Cities, Garland, Mesquite, Richardson, Dallas, Addison, Carrollton, Plano, Frisco, McKinney, Allen, and all of North Texas. Prior to starting any new treatment or if you have questions regarding a medical condition, always seek the advice of your doctor or other qualified health provider. This information is not a substitute for professional medical advice