Not every woman will have symptoms from uterine fibroids in her lifetime. But if you're one of the many whose life has been interrupted, finding relief, and one day living your best life might seem impossible. At Fibroid Institute Dallas, we believe that ship hasn't sailed. We treat women every day who desire a fibroid-free life without the emotional, life-altering consequences of living with fibroid symptoms.
The important thing to know is that fibroid symptoms—such as heavy and long-lasting menstrual cycles, pelvic pain and bloating, urinary frequency—are not normal, and living your best life without fibroids is possible. With minimally invasive options such as Uterine Fibroid Embolization (UFE), it is completely safe, fast, and easy to have a procedure now rather than continuing to suffer in silence.
Imagine Living Your Best Life Without These Fibroid Symptoms
Heavy menstrual bleeding
Weight gain
Debilitating cramps, pelvic pain, and pressure
Periods that last longer than a week
Pain during sex
Back or leg pain
Urinary frequency
Bowel or bladder dysfunction
Excessive fatigue
Bloating and swelling
The Emotional Cost of Uterine Fibroids
Researchers estimate that 70-80% of all women develop fibroids between the ages of 35 and 54. These benign tumors that develop from the muscle tissue of the uterus can form in different locations, differ in size, and either stay that way or grow at different rates.
Many women are unaware they have fibroids and can accidentally discover them during a routine pelvic exam with their doctor. In other situations, patients may experience fibroid pain and other life-interrupting symptoms, especially as the fibroids grow and put more pressure on the uterus and bladder. As a woman continues to experience more severe symptoms, the cost to her quality of life goes well beyond physical suffering. In many women, there is a heavy emotional toll on well-being, self-esteem, and overall body positivity.
1. Concerns Over Sexuality
Pain during sex, bloating, and more can interfere with a woman's sex life. Beyond the sexual act, she can develop feelings of inadequacy and undesirability in the eyes of her partner. According to Care About Fibroids, a 2013 national survey said 52% of women with fibroids worry about their sexual function.
2. Fear of Future Health Complications
In the same study above, 79% of women who participated in the survey worried that their fibroids would grow, and 55% feared needing a hysterectomy or that they would develop cancer.
3. Feelings of Helplessness
The emotional response to uterine fibroid symptoms can include everything from fear and anxiety to stress, anger, sadness, feelings of hopelessness and helplessness, and even depression. Stress, in particular, can cause fibroids that were once asymptomatic to grow because to handle stress, the brain tells our body to produce extra hormones. Fibroid growth is stimulated as hormone levels rise.
4. Inability to Be Active
The emotional toll of not being as active as you once were can be a tough pill to swallow. As a result, many women experience uncontrolled weight gain as they cut back on physical, daily, and social activities with friends and family.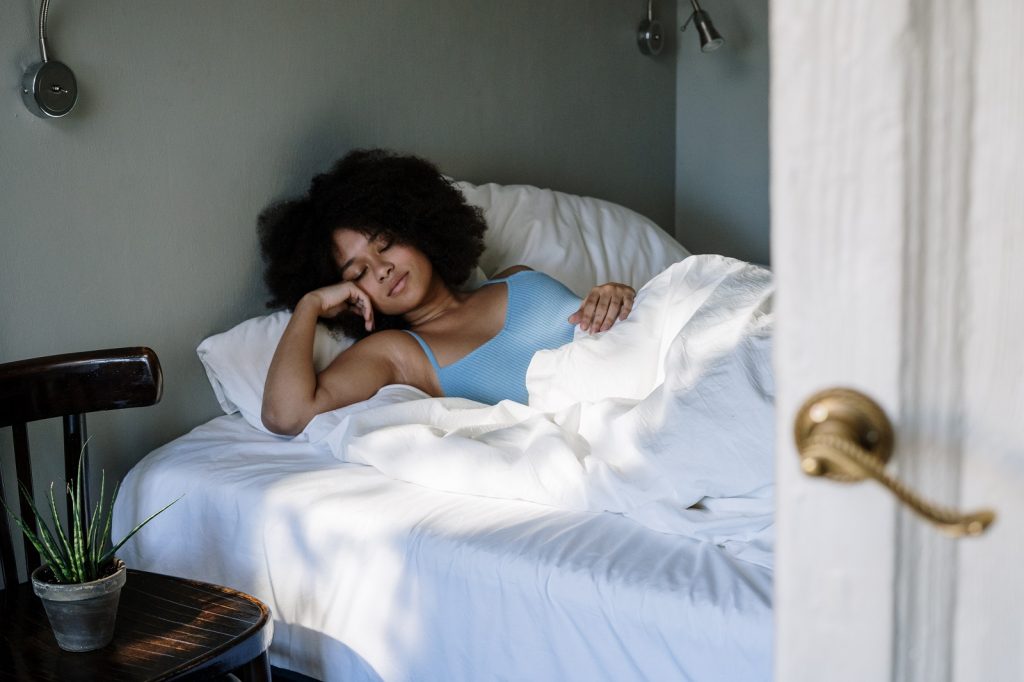 UFE and Living Your Best Life Without Fibroid Symptoms
The thought of going through a surgical procedure creates stress and fear of the unknown. How long will the recovery be? How will my body react? Is it safe? Will I be able to have children again? Will my life be forever changed because of this condition? These are all normal concerns, but the good news is that many women can live their best life without fibroid symptoms if they seek advice from their doctor now rather than wait or suffer in silence.
Uterine Fibroid Embolization (UFE) is a unique, low-risk procedure for fibroid treatment that often avoids complicated and bloody procedures such as a hysterectomy or myomectomy. UFE does not technically remove uterine fibroids in the way surgery does. But it is more than 90% effective in relieving the fibroid symptoms by cutting off blood flow to all fibroids, causing them to shrink and die. With UFE, small particles are injected through a tiny catheter at the wrist, they are introduced through the uterine arteries into the fibroid vessels, blocking the blood flow to the fibroids. The procedure will last about one hour, and you will be asleep for the procedure. You can resume light activities as soon as you feel up to it.
Additional advantages of UFE include:
No hospital stay
Tiny wrist puncture, no need for vaginal access
Short period of recovery (7 to 10 days in many cases)
Treat multiple fibroids at once
Covered by most major medical insurance
Over 90% effective in reducing symptoms
Women like you have benefitted from UFE and now are living their best life. Here are just a few sharing their experience:
I got my life back after severe bleeding, anemia, painful cramps, frequent urination, and back pain. No scar just a tiny little freckle. Don't be afraid you will be in good hands. – Eva A
I had my UFE done over 4 months ago, I wish I would've known about this years ago. I've been struggling with fibroids for about 9 years. I had 2-3 surgeries to remove them, but they kept growing back. This was the best decision I have ever made. – Maricela S
I did not want to have a hysterectomy so any options that were being offered as an alternative I was open to research. I was treated for fibroids by Fibroid Embolization and ten months to date, I went in to my well woman examination with a follow up ultrasound which indicated that the procedure was a success!!!!! I am eternally grateful for Dr. Slonim and her staff. I was treated with care and quality customer service. They took excellent care of me from beginning to the end. – Foxie J
Read more patient experiences here.
End Fibroid Symptoms and Live Your Best Life with Fibroid Institute Dallas
If you're concerned about treatment options, have an open conversation with your doctor. Many times, women who crave to live their best life without fibroid symptoms find that they don't need to have surgery at all. Uterine Fibroid Embolization (UFE) is the gold standard in non-surgical fibroid treatment.
Request a free 10-15 minute phone screening to determine if you are eligible for UFE. After the screening, if you qualify for UFE, you can schedule your onsite or telehealth consultation.
State-of-the-art equipment at our Fibroid Institute Dallas North office offers availability of onsite ultrasound and MRI imaging, allowing for a much more efficient evaluation of each patient's candidacy for UFE. A patient can have her MRI and been seen by a fibroid specialist immediately afterward, even possibly get scheduled during the same visit for her UFE, depending on insurance. Most major medical insurance providers cover the cost of UFE.
At Fibroid Institute Dallas, we are dedicated to helping you become #FibroidFree. Get started now by calling 214-838-6440 or completing the form below.
Prior to starting any new treatment or if you have questions regarding a medical condition, always seek the advice of your doctor or other qualified health provider. This information is not a substitute for professional medical advice.
Fibroid Institute Dallas serves the DFW area including North Dallas, Highland Park, University Park, Park Cities, Garland, Mesquite, Richardson, Dallas, Addison, Carrollton, Plano, Frisco, McKinney, Allen, Fort Worth, Grand Prairie, HEB, Arlington, Hutchins, Irving, Duncanville, DeSoto, Cedar Hill, Lancaster, Cockrell Hill, and all of North Texas.