One common question uterine fibroid patients ask their doctor is if fibroids are genetic. This was the case with a patient named Angela. You see, Angela dealt with painful fibroid symptoms for five years before she had her uterine fibroid embolization (UFE) procedure last August. Thankfully, Angela is feeling much better now, but she couldn't help but wonder if her teen daughter, Ashley, will eventually suffer a similar fate. It's a fair question, as studies consistently show a link between fibroids and heredity. And if a mother's fibroid symptoms are painful or led to complicated fibroid surgery in the past, the last thing she wants is for her daughter to go through it, too.
Unfortunately, there is a likelihood Angela's daughter will develop fibroids. Heredity is one of many factors that determine if your daughter follows in your footsteps. However, it's important to know that some women go their entire lives without experiencing symptoms such as fibroid pain. And those who do experience fibroid symptoms now have minimally invasive options such as UFE.
What to Tell Your Daughter About Fibroids
Those of us who are mothers of daughters want to prepare them for life as women. One of those educational moments is to teach them what it means to live with fibroids. Fibroids are benign tumors that develop from the muscle tissue of the uterus. They can form in different locations, differ in size, and either stay that way or grow at different rates. Many women are unaware they have them and accidentally discover them during a pelvic exam with their doctor. In other situations, patients experience life-interrupting symptoms, especially as fibroids grow.
Examples of these debilitating symptoms include:
Heavy menstrual bleeding or clotting
Bladder problems
Constipation, diarrhea, and rectum discomfort
Periods that last longer than a week
Cramps, pelvic pain, and pressure
Back or leg pain
Pain during sex
Fatigue and possible anemia
In terms of how common fibroids are, as many as 3 out of 4 women will develop fibroids during their lifetimes. Statistics reveal that about 20 to 80% of women develop these noncancerous tumors by the time they reach 50. No one knows what causes fibroids, though research indicates that the hormones estrogen and progesterone control them and that there is—among other factors—a hereditary component. However, do not discount symptoms simply because you don't have a family member with fibroids.
Odds Are High Your Daughter Will Have Fibroid Symptoms
Will your daughter experience painful fibroid symptoms, too? Simply put, having a family member with fibroids increases a patient's risk of following a similar path. So, if a grandmother, mother, or sister had or has fibroids, that patient is predisposed. If you have been diagnosed with fibroids and have a daughter, the Office on Women's Health (OWH) says her risk of also experiencing them is roughly three times higher. Why is this the case? Well, while not all uterine fibroids develop from hereditary reasons, some develop because of inherited genetics.
In a study by The American Journal of Human Genetics, researchers analyzed genetic data and detected genetic variants associated with uterine fibroids. One of these genes was FASN, which encodes a protein called FAS (fatty acid synthase). Because of this study, physicians believe there is a genetic component to fibroid growth.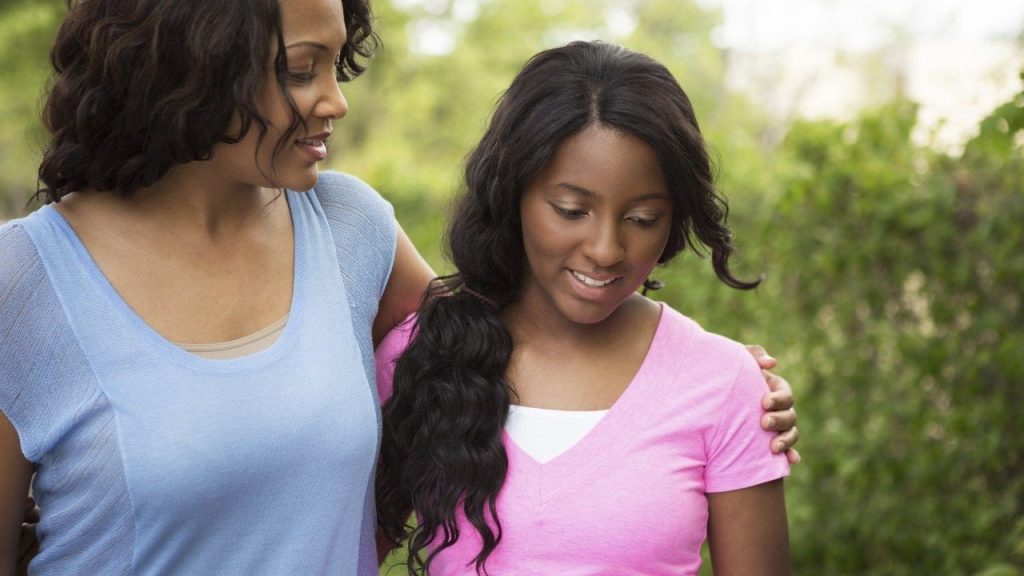 While fibroids appear to be hereditary and could put your daughter at an increased risk, it isn't the only factor in determining if your daughter will experience fibroid symptoms. There are additional factors beyond hereditary concerns that can increase your daughter's risk for developing fibroids.
Risk Factors for Fibroid Symptoms
Eating habits — Women who eat a lot of red meat and sugary foods are linked to a higher risk of uterine fibroids, regardless of whether or not they are related to someone who has had fibroids. Naturally, this leads to weight gain. You can suggest that your daughter eat more fruits, especially citrus, and vegetables.
Obesity — Obesity is a risk factor for fibroid growth and contributes to telltale fibroid symptoms such as back and pelvic pain. According to the OWH, the risk for heavy women is two to three times greater than average. A healthy BMI, or Body Mass Index, is between 18.5 and 25.
Ethnicity — Black women are three times more likely to develop fibroids than any other ethnic group. In fact, 80% of Black women will develop fibroids by the time they are 50. The rate of hospitalization for fibroids is three times higher for Black women than white women. They are also two to three times more likely to undergo a hysterectomy and seven times more likely to have a myomectomy.
Age — Fibroids can form at any age, but they are more common between the ages of 35 and 54 since they grow throughout a woman's reproductive life. As hormone levels decrease over the age of 54 and after menopause, uterine fibroids can stop growing or even shrink.
Ways to Reduce Risk of Fibroids: A Checklist
A Non-Surgical Fibroid Treatment Option
If you are wondering if your daughter will develop fibroid symptoms if you have them, the good news is that she will have treatment options. This includes uterine fibroid embolization (UFE). UFE is a unique, low-risk, highly successful procedure for fibroid treatment that allow patients to avoid complicated surgeries. It's also more than 90% effective in relieving the fibroid symptoms by cutting off blood flow to all fibroids, causing them to shrink and die. With UFE, small particles are injected through a tiny catheter at the wrist. They are introduced through the uterine arteries into the fibroid vessels, blocking the blood flow to the fibroids.
Additional benefits of UFE with the Fibroid Institute Dallas include:
In-office procedure instead of hospital stay
Tiny wrist puncture, no need for vaginal access
Recovery time only 7-10 days versus 4-6 weeks for surgery
>90% reduction of fibroid-related symptoms
Fibroid symptoms improve dramatically
Procedure typically takes less than an hour
All fibroids may be treated at the same time
Avoids side effects of pharmaceutical therapies typically used to treat fibroids
Fibroid Institute Dallas Supports Women with Fibroids
Are you concerned about your daughter's fibroid symptoms? Knowing everything you possibly can about fibroids will go a long way in helping you guide your daughter down the right path. Medical Director and Founder of Fibroid Institute Dallas, Dr. Suzanne Slonim, endorses uterine fibroid embolization (UFE), the gold standard in non-surgical fibroid treatment. Fibroid specialists Dr. Suzanne Slonim and Dr. Uma Reddy have helped thousands of women treat fibroids symptoms with UFE.
State-of-the-art equipment at our Fibroid Institute Dallas North office offers availability of onsite ultrasound and MRI imaging, allowing for a much more efficient evaluation of each patient's candidacy for UFE. A patient can have her MRI and be seen immediately afterward, even possibly get scheduled during the same visit for her UFE, depending on insurance. Most major medical insurance providers cover the cost of UFE.
Need more information? Have questions? At Fibroid Institute Dallas, our team is dedicated to helping women become #FibroidFree. Schedule a consultation by calling 214-838-6440 or completing the form below. In-office and telehealth appointments are available.
"*" indicates required fields
This information is not a substitute for professional medical advice. Prior to starting any new treatment or if you have questions regarding a medical condition, always seek the advice of your doctor or other qualified health provider.
Fibroid Institute Dallas serves the DFW area, including Highland Park, University Park, Park Cities, Garland, Mesquite, Richardson, Dallas, Addison, Carrollton, Plano, Frisco, McKinney, Allen, Fort Worth, Grand Prairie, HEB, Arlington, Hutchins, Irving, Duncanville, DeSoto, Cedar Hill, Lancaster, Cockrell Hill, and all of North Texas.