Until recently Lynn* felt alone when sharing how painful her uterine fibroids can get. In a word, she says it's unbearable. For the longest time, few women spoke about the emotional impact of fibroids. Beyond the physical pain, Lynn's thoughts tormented her. She felt ashamed, empty, hopeless, and less like a woman. Not having an outlet to share that grief made everything worse. It wasn't until she visited an online forum that she finally found women having open conversations about this side of living with uterine fibroids. She now knows women just like her who deserve relief.
With May being Mental Health Month, our team at Fibroid Institute Dallas believes it's important to bring the emotional impact of fibroids into the spotlight so that more women like Lynn realize they are definitely not alone. Women with fibroids don't have to go through life pretending to be fine emotionally, when in reality they're not. The impact fibroids have on a woman's quality of life includes an often under-discussed and heavy emotional toll on well-being, self-esteem, and overall body positivity that can sometimes feel worse than the physical suffering.
Women with fibroids: These are their stories.
"Yes! I'm so glad you are talking about this side of this illness! Everyone who knows me acts like 'focus on the good and what you do have,' which I do try to do. But it is so hard. I have changed entirely from who I was. I feel less hope, have no naivety or false aspirations anymore, etc. Don't get me wrong, I am totally happy most of the time. These are my inner self-thoughts that I struggle with on my own." — Lynn 
Everyone Wants to Talk About the Physical Pain First
Obviously, the physical pain fibroids cause is well documented and cannot be overstated. Researchers estimate that 70-80 percent of all women develop fibroids between 35 and 54. These benign tumors that develop from the muscle tissue of the uterus can develop in different locations, differ in size, and either stay that way or grow at different rates. Some women are unaware they have fibroids and will accidentally discover them during a routine pelvic or pregnancy exam with their doctor.
But there is also an entire community of patients who do experience fibroid pain and other life-altering symptoms, especially as their fibroids grow and put more pressure on the uterus and bladder. This can cause a long line of symptoms that include any combination of the following.
Common Uterine Fibroid Symptoms
Painful periods, including heavy or inconsistent cycles
Debilitating cramps, pelvic pain, and pressure
Bloating or swelling in the lower abdomen
Back or leg pain
Weight gain
Pain during sexual intercourse
Urinary frequency
Constipation, diarrhea, and rectum discomfort
Fatigue and weakness
As more women begin sharing their stories, it's clear that physical pain is only the tip of the iceberg.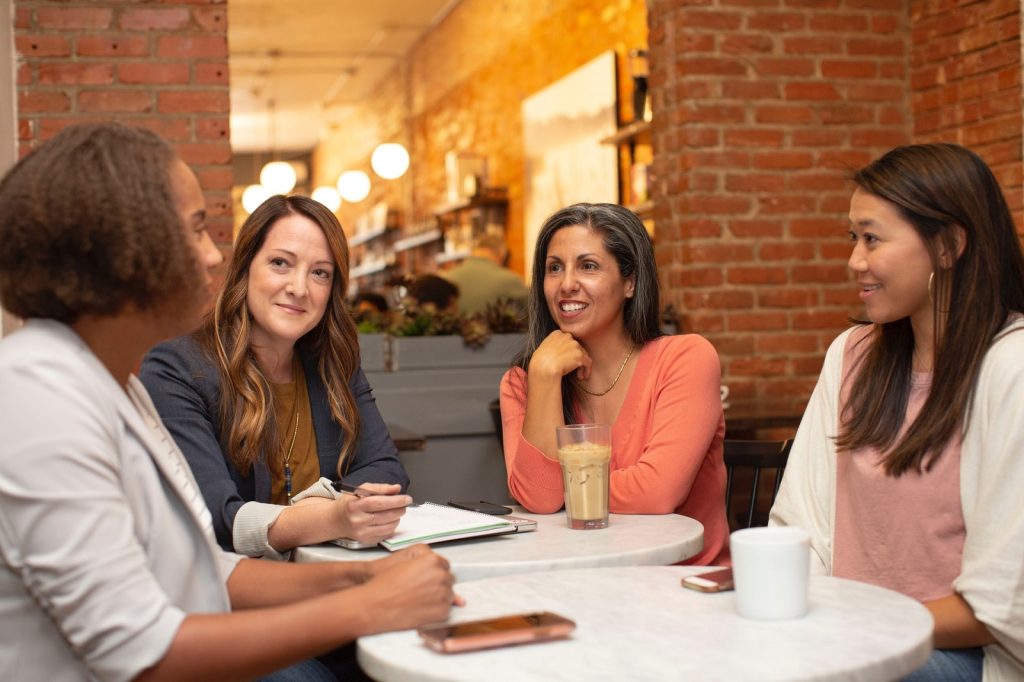 "The pain is really emotionally challenging for me. And now that I have a diagnosis but am still waiting for the referral to a specialist, it's really stressful and scary and upsetting. My period is due in a week, and I'm already an anxious mess because they are so painful and such an interruption in my life. The emotional toll is no joke at all." — Caroline
"I didn't really want to share my fibroid situation with people (very sensitive for me), but I became emotional and broke down in front of my 95-year-old aunt after she and her son called me fat. I felt so broken. People have no idea what goes on inside of people. I wish people/my family were more kind. I've been crying since it happened yesterday, the pain from my body and my heart is just too much to interact with people going forward." — Lakesha
The Emotional Impact of Fibroids is No Joke
This is why we chose Mental Health Month to help us get the emotional impact of fibroids out into the open. Since 1949, Mental Health America and its affiliates across the country have worked tirelessly to spread the word that mental health is something everyone should care about. For too long, there has been a recognizable stigma surrounding depression, anxiety, stress, and so many other emotionally trying conditions. As a result, there is a lack of support and an overall understanding of what many people are experiencing.
Women with painful fibroids have said they suffer from an emotional roller-coaster over any of the following:
1. Concerns over sexuality
Pain during sex, bloating, and more can interfere with a woman's sex life. Beyond the sexual act, she can develop feelings of inadequacy and undesirability in the eyes of her partner. According to Care About Fibroids, a 2013 national survey said 52% of women with fibroids worry about their sexual function.
"Not being able to be intimate with my fiancé because even the rare times I'm not bleeding, I'm terrified it'll start as soon as we try anything." — Brianna
2. Fear of future health complications
In the same study above, 79% of women who participated in the survey worried that their fibroids would grow, and 55% feared needing a hysterectomy or that they'd develop cancer.
"I go to see an OBGYN tomorrow, and I don't even know what to ask or what's going to happen. I have so many questions. Did I mention I'm terrified and ohhh so emotional? And so tired. I had all three of my babies with no pain meds, and I can tell ya this pain feels worse." — Christina
3. Feelings of helplessness
The emotional response to painful uterine fibroids can include everything from fear and anxiety to stress, anger, sadness, feelings of hopelessness and helplessness, and even depression. Stress, in particular, can cause fibroids that were once asymptomatic to grow at an alarming rate because to handle stress, the brain tells our body to produce extra hormones. Fibroid growth is stimulated as hormone levels rise.
"I cry just to cry. I've never felt so alone and isolated in my whole life. Then I have a 'friend' tell me I'm THAT patient who takes all of my doctor's time." — April
4. Inability to be active
The emotional toll of not being as active as you once were can be a tough pill to swallow. As a result, many women experience uncontrolled weight gain as they cut back on physical, daily, and social activities with friends and family.
"The constant cancelled plans and inability to work or drive from the constant bleeding and effects of anemia have had me on the verge of a breakdown. This has changed me from an independent, vibrant person to a shell of a person, homebound whose days are spent waiting on test results, scheduling appointments, wondering when I'm going to start bleeding again or if today I'll have the energy to get anything done. We can't plan or look forward to anything." — Rhea
5. Fears over impending surgical procedures
Even when women choose not to suffer in silence and reach out for help, the thought of going through a surgical procedure such as a hysterectomy or myomectomy creates stress and plenty of fear of the unknown. How long will the recovery be? How will my body react? Is it safe? Will I be able to have children again? Will my life be forever changed because of this condition?
"I recently discovered I have fibroids. I'm so flabbergasted by the lack of support in general for women's health dealing with the waist down. How it can affect us physically, emotionally, and financially. I cannot believe we have this many women fighting for relief, answers, support! And how many of us are not only struggling to find help but insurance issues as well." — Allison
Having a Compassionate Doctor in Your Corner Helps
A uterine fibroid research study conducted by experts from the Mayo Clinic, the Cleveland Clinic, and the University of North Carolina found that women delayed seeking treatment for an average of 3.6 years, with nearly a third waiting more than five years. Most of this was due to fear and lack of knowledge about treatment options. If this sounds all too familiar for you, having a doctor in your corner—someone who is open to back-and-forth dialogue, answering every question or concern, setting expectations along the way, and honoring your wishes—is one significant way to help feel more in control and have less fear of treatment.
Another way is uterine fibroid embolization UFE), which by itself is a simple solution to addressing many emotions women face about the possible need for fibroid surgery. UFE is a unique, minimally invasive treatment. Rather than remove fibroids, UFE blocks the blood flow to fibroids, causing the fibroids to shrink and die.
UFE is effective at eliminating fibroids and fibroid pain, but unlike its counterparts, it is not surgery. An experienced, skilled interventional radiologist injects small particles through a tiny catheter into the blood vessels that feed fibroids. With UFE, there's no vaginal access, no incision, and a dramatic reduction in symptoms for most women. In addition, the recovery time is much faster than traditional surgery.
Rather than a hospital stay, UFE is a same-day outpatient procedure. In fact, at Fibroid Institute Dallas, we offer UFE to patients in the comfort of our offices equipped with advanced medical technology. Dr. Suzanne Slonim performs UFE utilizing the radial artery, which requires a small wrist puncture rather than an abdominal incision.
Advantages of UFE at Fibroid Institute Dallas
No incision and no scarring
In-office procedure instead of hospital stay
No blood loss
Recovery time only 7-10 days versus 4-6 weeks for surgery
All fibroids may be treated at the same time
Uterus remains preserved
Less risk than fibroid surgery
Avoid side effects of hormone therapies typically used to treat fibroids
Over 90% reduction in fibroid-related symptoms
Pregnancy is still possible
As the months go by and you're recovering from UFE, you'll notice that many of your uterine fibroid symptoms are disappearing or drastically getting better. You may also notice a decrease in the emotional impact of fibroids.
Overcome the Emotional Impact of Fibroids Today
At Fibroid Institute Dallas, we understand the emotional impact of fibroids, having helped thousands of women with fibroid treatment. Untangling the web of confusion and emotions, while giving you confidence to move forward, takes a consultative approach. Dr. Suzanne Slonim brings a team of fibroid experts, you and your doctor, to guide you toward the best approach.
For the gold standard in non-surgical fibroid treatment, consider uterine fibroid embolization (UFE). Request a free 10-15 minute phone screening to check if you are a candidate.
After the screening, if you are eligible for UFE, you can schedule your onsite or telehealth consultation. State-of-the-art equipment at our Fibroid Institute Dallas North office offers availability of onsite ultrasound and MRI imaging, allowing for a much more efficient evaluation of each patient's candidacy for UFE. Depending on insurance, a patient can have her MRI and be seen immediately afterward, even possibly get scheduled during the same visit for her UFE. Most major medical insurance providers cover the cost of UFE.
At Fibroid Institute Dallas, we are dedicated to helping you become #FibroidFree. Dr. Suzanne Slonim is the North Texas fibroid specialist you need in your corner. Get started now by calling 214-838-6440 or completing the form below.
*All patient stories are true. Names and/or photos may be changed to protect patient confidentiality.
This information is not a substitute for professional medical advice. Prior to starting any new treatment or if you have questions regarding a medical condition, always seek the advice of your doctor or other qualified health provider.
Fibroid Institute Dallas serves the DFW area including Fort Worth, Grand Prairie, HEB, Arlington, Hutchins, Irving, Duncanville, DeSoto, Cedar Hill, Lancaster, Cockrell Hill, Highland Park, University Park, Park Cities, Garland, Mesquite, Richardson, Dallas, Addison, Carrollton, Plano, Frisco, McKinney, Allen, and all of North Texas.