Considering Hysterectomy? Read About Possible Surgical Risks First!
Over 400,000 hysterectomies are performed each year in the United States, most for benign diseases such as endometriosis or fibroids. Hysterectomy is one of the most commonly performed surgical procedure. If women are under the age of 40, ovaries are often left behind if they appear healthy. According to one study, women who underwent a hysterectomy at age 35 years had a 4.6-fold increased risk of congestive heart failure and a 2.5-fold increased risk of coronary artery disease (Laughlin-Tommaso et al. 2017). The implications of hysterectomy on the future health of a woman is discussed further on our blog.
There are several ways a hysterectomy may be performed, including vaginal, abdominal, and laparoscopically assisted. The most common reasons for doing a hysterectomy are excessive bleeding or refractory pelvic pain. Excessive bleeding is usually due to benign tumors called fibroids or myomas. These are rounded, muscular growths that can grow to enormous sizes and push into the uterine cavity. When they push on the inside lining of the uterus, they can cause the release of blood at unexpected times, and often the amount is excessive and can lead to anemia.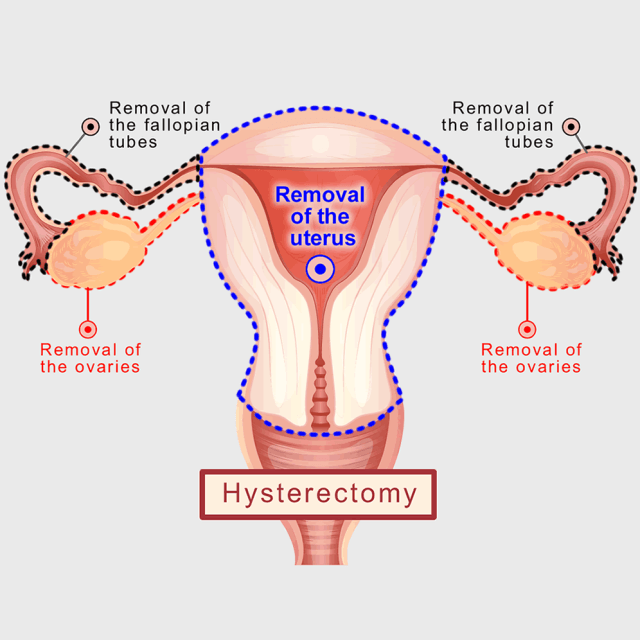 One alternatives to hysterectomy is myomectomy. Myomectomy often involves the same risks that a hysterectomy poses. The dangers of both procedures are excessive bleeding that may require transfusion or delayed healing. Infection of the incision or the top of the vaginal are the most significant risks, which are why antibiotics are used at the time of the operation. Wound separation can occur, especially in obese patients, smokers, or people with diabetes. The risks of anesthesia cannot be discounted and include the development of aspiration pneumonia. In fact, women with underlying serious medical problems such as heart disease are at risk of a heart attack as a result of anesthesia. Another risk of hysterectomy is blood clots forming in the legs or pelvis. If they travel to the lungs they are known as pulmonary emboli and are fatal 20 % of the time. Early walking after surgery and compression stockings are used to prevent blood clots.
Bladder, ureter, and bowel complications can occur as a result of the closeness of these structures to the uterus and cervix. A catheter is placed in the bladder before the procedure to help protect it and is removed soon after surgery. But that adds discomfort and risk of urinary tract infection.
Even if the ovaries are not removed, their blood supply becomes reduced because part of their blood supply comes from the uterus and fallopian tube blood vessels. This reduced blood supply can result in an earlier than expected menopause. If both ovaries are removed, immediate surgical menopause is the result. This may require hormone supplementation, especially in the early years following a hysterectomy.
Sexual dysfunction as a result of low hormones or due to that fact that the nerves to the upper vagina and cervix were removed is another potential undesirable consequence.
A less risky alternative to hysterectomy or myomectomy for women with fibroids is Uterine Fibroid Embolization (UFE). If blood supply to the fibroids is cut off, fibroids will die and can no longer grow. They will simply shrink in size.
Visit Fibroid Institute Dallas for Options Other Than Surgery
Fibroid Institute Dallas is the go-to resource in North Texas for educating patients about uterine fibroids and minimally invasive procedures such as Uterine Fibroid Embolization. UFE is the gold standard in non-surgical fibroid treatment. Thousands of women have had their fibroids symptoms treated with UFE at Fibroid Institute Dallas.
State-of-the-art equipment at our Dallas North office offers availability of onsite ultrasound and MRI imaging, allowing for a much more efficient evaluation of each patient's candidacy for UFE. Depending on insurance, a patient can have her MRI and be seen immediately afterward, even possibly get scheduled during the same visit for her UFE.
Before deciding to undergo hysterectomy or myomectomy, speak to our fibroid expert Dr. Suzanne Slonim to see if you are a candidate for Uterine Fibroid Embolization. For more information about fibroid tumor treatment in Dallas or UFE, or to schedule a consultation, call 214-838-6440 or complete the form below.
"*" indicates required fields
This information is not a substitute for professional medical advice. Prior to starting any new treatment or if you have questions regarding a medical condition, always seek the advice of your doctor or other qualified health provider.
Fibroid Institute Dallas serves the DFW area including Addison, Carrollton, Plano, Frisco, McKinney, Allen, Fort Worth, Grand Prairie, HEB, Arlington, Hutchins, Irving, Duncanville, DeSoto, Cedar Hill, Lancaster, Cockrell Hill, Highland Park, University Park, Park Cities, Garland, Mesquite, Richardson, Dallas, and all of North Texas.