Jacqueline* thought she'd experienced every uterine fibroid symptom over the past year. This included heavy menstrual bleeding, pelvic pain and pressure, intense bloating, and even pain during sexual intercourse. As uncomfortable as all those symptoms were, she'd at least been warned about them by her doctor. The surprise symptom she didn't anticipate was constipation. One day, she noticed that her bowel movements were becoming less frequent. And when she did go to the bathroom, her stool was very difficult to pass. At first, she didn't put two and two together. But, after talking further with her OBGYN, she learned that constipation is, in fact, a fibroid symptom. The only question left in her mind was why.
If you're dealing with uncharacteristic constipation because of your fibroids, you're not alone. Researchers estimate that 70-80% of all women develop fibroids between the ages of 35 and 54. These benign tumors that develop from the muscle tissue of the uterus pop up in different locations, differ in size, and stay that way or grow at different rates. While some women are asymptomatic, others experience a variety of painful and life-altering symptoms. This includes constipation, especially as their fibroids grow and put pressure on the bowel and intestines.
Are You Having Any of These Signs of Constipation?
Straining to have or complete bowel movements, causing pain
Feeling as though there's a blockage in your rectum
Fewer than three bowel movements per week
Feeling of rectal fullness
Feeling that you can't completely empty stool from your rectum
Bloating and a feeling of uncomfortableness
Abdominal pain
Stools are dry, hard, and lumpy
Are You Experiencing Any of These Signs of Fibroids?
Heavier than normal bleeding or clotting
Period blood clots as big as a quarter or larger
Bleeding that requires frequent pad/tampon changes (every 1-2 hours)
Abdominal cramps
Back pain and/or leg pain
Low energy levels
Pain during sex
The Relationship Between Fibroids and Constipation
Bowel movements are our body's way of removing waste and making space in the digestive system. Will you feel the urge to have a bowel movement every day? Not necessarily, and this is OK. That said, a healthy bowel movement schedule should be anywhere between three times a week to three times per day. Some women may experience more frequent bowel movements than that depending on a variety of factors, including diet, water intake, stress, exercise, menstruation, certain medical conditions, etc. If you are not within this range, and your stool is chronically difficult to pass, you may be suffering from constipation.
Constipation impacts at least 2.5 million people each year and is technically defined as having fewer than three bowel movements a week. That said, how often each person goes to the bathroom can vary widely and usually follows a distinct pattern that's unique to that person. If the pattern changes considerably—to the point where the gaps between bowel movements are getting longer and longer—you could be constipated.
Constipation can quickly disrupt a person's routine and feel uncomfortable. This is why getting to the bottom of your constipation issues is so important.
Causes of Constipation
There are a variety of underlying conditions that could be causing your constipation, including the following:
Diet, such as not eating enough fiber
Not drinking enough fluids
A blockage in the intestines or narrowing of the colon
Immobility or lack of exercise
Consuming a lot of milk or cheese
Stress
If all those factors have been ruled out, and you've either been diagnosed with fibroids or having other signs of fibroids, your constipation could be a fibroid symptom. And here's why: Many fibroid symptoms are tied to where they are located, their size, and how many fibroids are present. Size and location are a concern when it comes to constipation because as a fibroid grows, it becomes a large, heavy mass that causes the uterus to expand. And if any of your fibroids are located on the back wall of your uterus, they can press against the intestines and colon. Since these organs affect bowel movements, the chance of constipation increases if restricted in any way.
Fibroid Sizes, Growth and Location
To give you a better picture of fibroid growth, here is what fibroid sizes can look like:
Small fibroids — Between 1 cm and 5 cm. Basically, the size of a small seed to a cherry.
Medium fibroids — Between 5 cm to 10 cm. Can be the size of a plum to an orange.
Large fibroids — Greater than 10 cm. The size of a melon, grapefruit, watermelon, or a small pumpkin.
In terms of fibroid location and constipation as a fibroid symptom, the Office on Women's Health breaks fibroids down into four types: subserosal (outside the uterine walls), pedunculated (hanging by a thin stalk outside the uterus), intramural (inside the uterine wall), and submucosal (under the uterine lining and into the uterine cavity). Any of these types can create a domino effect that can lead to a variety of symptoms—including constipation.
It is also worth mentioning that many women who experience consistent fibroid pain rely on pain medication to manage symptoms. Unbeknownst to them, this can also lead to constipation as a side effect in addition to the fibroids themselves causing this issue.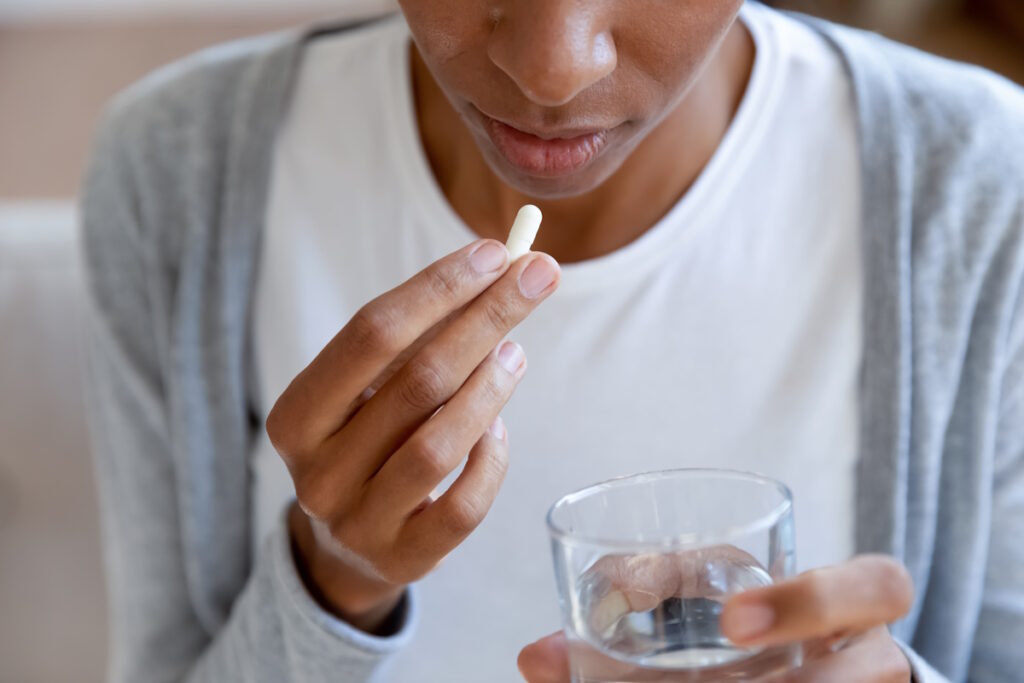 What Are My Next Steps for Fibroid Treatment?
If you have fibroids and are experiencing unexplained or ongoing constipation, it's best that you visit your doctor. If there are telltale fibroid symptoms present impacting your daily life, your physician may refer you to a specialized fibroid doctor, such as an interventional radiologist, for more guidance. An ultrasound can show if you have fibroids in your uterus and can give an idea of the size of each one. However, an MRI is the best imaging technique because it clearly shows fibroids that are not visible on ultrasound and provides the most detail when it comes to the size and position of the fibroids.
At Fibroid Institute Texas, our doctors are board-certified interventional radiologists with 100% focus on fibroids and fibroid treatment. The good news is that fibroids are very treatable without the need for invasive surgery. We offer women a nonsurgical option, uterine fibroid embolization (UFE), for the relief of fibroid symptoms including constipation.
For years, the standard method of care for fibroids were surgeries such as a hysterectomy and myomectomy. In some cases, they still are the right treatment option for women. But in today's world of evolving technology, it is wise to seek a second opinion.
UFE is a minimally invasive procedure that only takes about an hour and requires no surgery. With UFE, the experienced fibroid specialists at Fibroid Institute insert small particles through a tiny catheter at the wrist using image-guided interventional radiology. The particles are introduced through the uterine arteries into the fibroid vessels, blocking blood flow to the fibroids. By cutting off blood flow to all fibroids, the fibroids shrink and die so that you can get back to your lifestyle and normal activities quickly.
Advantages of UFE for Fibroid Institute patients include:
Over 90% of patients see dramatic improvement in symptoms
All fibroids may be treated at the same time
In-office procedure instead of hospital stay
Recovery time is 7-10 days
Tiny wrist puncture, no need for vaginal access
Avoid side effects of pharmaceutical hormone therapies
Procedure typically completed in under an hour
No incisions, which means no surgical scarring
Get Relief from Constipation Caused By Fibroids
If you're worried that your constipation is a fibroid symptom, it is important to have an open conversation with your doctor. Many times, women find that they don't need to have fibroid surgery at all and that non-surgical options are available to eliminate fibroids and their uncomfortable symptoms.
At Fibroid Institute Texas, we are dedicated to educating and empowering women on fibroid treatment options. Treatments are offered in the comfort of our offices equipped with advanced medical technology. Our office handles all orders for MRIs and diagnostic scans. We also manage all insurance pre-authorizations.
Most major medical insurance providers cover the cost of UFE. With multiple locations, our Houston and Dallas fibroid centers help thousands of women avoid fibroid surgery but find relief from their fibroid symptoms. Meet some of these women here:
We are dedicated to helping you become #FibroidFree. Get started now with Fibroid Institute Dallas at 214-838-6440 or with Fibroid Institute Houston at 713-903-3733 or complete the form below.
"*" indicates required fields
This information is not a substitute for professional medical advice. Prior to starting any new treatment or if you have questions regarding a medical condition, always seek the advice of your doctor or other qualified health provider.
Fibroid Institute Texas serves the Dallas and Houston areas including Addison, Carrollton, Plano, Frisco, Craig Ranch, McKinney, Allen, Fort Worth, Grand Prairie, HEB, Arlington, Hutchins, Irving, Duncanville, DeSoto, Cedar Hill, Lancaster, Cockrell Hill, Highland Park, University Park, Park Cities, Garland, Mesquite, Richardson, Dallas, Sherman, Houston, Sugar Land, Katy, Webster, Clear Lake, The Woodlands, Universal City, Spring, Kingwood, Stafford, Conroe, Texas City, Cypress, League City, Bellaire, and more.
*Patient stories are true. Names and/or photos may be changed to protect patient confidentiality.