C.J.* has been a popular hairstylist for more than 20 years. Though she works with all hair types, she is especially talented with Black hair. Many of her clients are Black women who rely on chemical hair relaxers, straighteners, braids, weaves, or dyes to maintain their desired standard of beauty. Also a Black woman herself, C.J. routinely uses the same hair treatments for her own needs. Now she is concerned after recently learning of a possible link between hair products and uterine fibroids.
Researchers already estimate that 70-80% of all women develop fibroids between the ages of 35 and 54. Those numbers are higher among Black women—80% develop fibroids by the time they are 50 compared to 70% of white women. Not all of women experience pain, but those who do say the symptoms can keep them from leading a normal life and participating in regular activities.
With more news about hair products, how the chemicals in them can spread through the bloodstream and affect a woman's reproductive system, many women like C.J. are worried. This is especially true if they don't have fibroids but are wondering if they should limit how often they use chemical hair products or just stop altogether, as a preventive measure.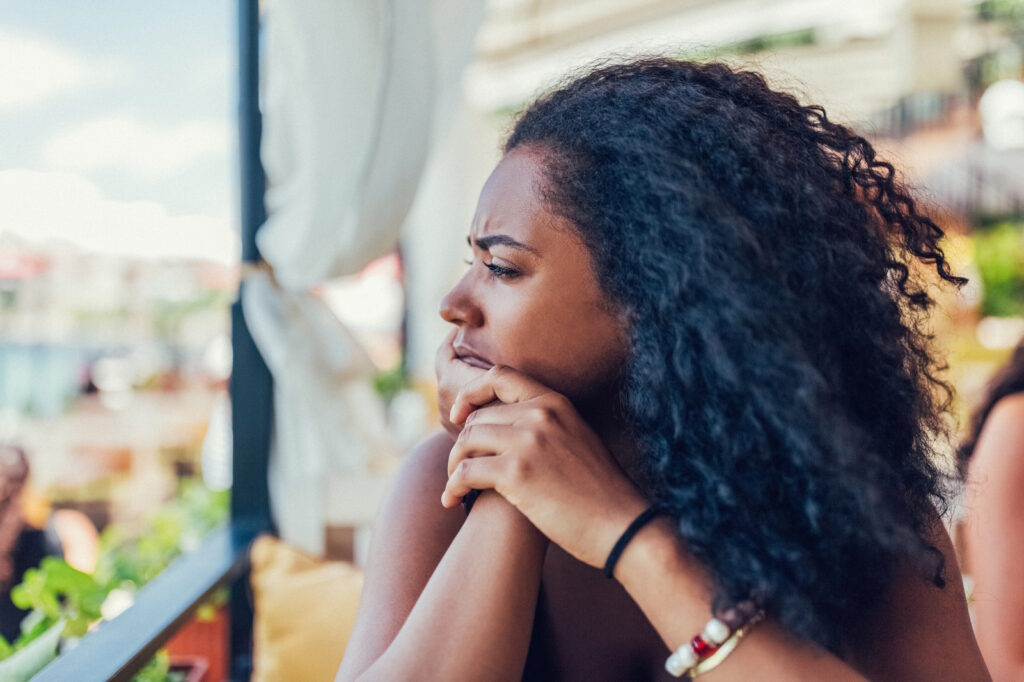 How Your Hair Treatment May Increase Your Risk of Fibroids
Millions of Black women every day use hair relaxers, dyes, and straighteners. And while these are great for maintaining a woman's desired hairstyle, several studies suggest the chemicals in them increase a woman's risk of developing fibroids as well as certain uterine cancers. This is because hair straighteners and relaxers can cause burns, lesions, and breaks in the skin in the scalp which allows the chemicals to be absorbed into the body.
Researchers point to these products containing dangerous carcinogens or hormone disruptors that affect a woman's reproductive system if used consistently over many years.
Cyclosiloxanes
Parabens
Diethyl phthalate (DEP)
Nonylphenols
One study found that Black women who routinely used chemical hair straighteners had a two to three times higher risk of fibroids out of the 7,000 women diagnosed. Another study measured the concentration of chemicals found in 18 hair products that interfered with hormones (leave-in conditioners, root stimulators, hair relaxers, hot oils, anti-frizz treatments, etc.). It concluded that hair products used by Black women contained multiple chemicals associated with endocrine disruption and asthma.
The studies don't stop at fibroids. According to an article by HuffPost, the Journal of the National Cancer Institute found that the risk of uterine cancer doubled among people who frequently used chemical hair straighteners. Past research indicates there is also an association with ovarian and breast cancer. Per the article, "though it's unclear how these products may contribute to cancer, scientists suspect some chemical ingredients may impair the endocrine system and lead to the formation of cancer cells."
Alexandra White, the head of the National Institute of Environmental Health Sciences, was quoted as saying, "These findings suggest that [people] should consider their use of hair products in light of the fact that the chemicals in straightening products may influence their risk of developing uterine cancer. However, the overall risk is not large and chemical hair products are just one of many factors that may influence a woman's chances of getting uterine cancer."
How to Diminish Your Risk of Fibroids from Hair Products
Avoid using hair products as often
Consider products that are plant-based or have organic ingredients
Read the labels: Avoid products that use paraben or say fragrance-free
Facts About Fibroids and Black Women
Fibroids are noncancerous tumors in the female reproductive system and are extremely common. You may have one or several, all of which can differ in size. Symptoms can include heavy and irregular periods, painful sexual intercourse, back pain, constipation, urinary frequency, and pelvic pain.
Though any woman can develop fibroids, they have a more dramatic impact on Black women in comparison to other races. In fact, the rate of hospitalization for fibroids is three times higher for Black women than white women. Black women are also two to three times more likely to undergo a hysterectomy and seven times more likely to have a myomectomy.
Here are a few more facts about fibroids and Black women:
Black women are diagnosed at a younger age (between 29 and 39)
More often, the patient has larger and multiple fibroids
Fibroids in Black women display faster growth
Their fibroids shrink slower after pregnancy (fibroids in white women shrink faster)
Back women have more severe symptoms (heavy bleeding, prolonged periods, cramping, etc.)
They have surgery at earlier age (many times during childbearing years)
More complications happen during surgery in Black women
All women are at risk for fibroids because of a variety of factors, including hormonal imbalances, family history, obesity, and high blood pressure. And, we can add chemical hair products to the list
Consider UFE for Fibroid Treatment
If you're reading this and know you've already been diagnosed with fibroids, it is important that you and your doctor keep a close eye on your ongoing symptoms and discuss the right treatment options for your unique situation. Sometimes, you and your doctor can take a "wait and see" approach if you don't have any symptoms. If you do have symptoms, the good news is that you don't have to live with painful fibroids forever.
Uterine fibroid embolization (UFE) does not technically remove uterine fibroids in the way surgery does. But it is more than 90% effective in relieving the fibroid symptoms by cutting off blood flow to all fibroids, causing them to shrink and die. With UFE, small particles are introduced into the uterine arteries and fibroid vessels, blocking the blood flow to the fibroids. This safe, easy, and fast treatment will take about one hour. You will be asleep during the procedure.
Advantages of UFE at Fibroid Institute include:
Covered by most major medical insurance
No hospital stay
Treat multiple fibroids at once
No incision or vaginal access, just a small puncture on your wrist
Recovery period is as little as one week in many cases
Over 90% effective in reducing symptoms
Referrals are not required
Doctors are 100% dedicated to fibroids and UFE
Mobile number given to every UFE patient to contact her doctor directly
Worried About Fibroids? Fibroid Institute Is on Your Side
It can be overwhelming when you hear that the hair products you use daily can increase your risk of fibroids and other reproductive issues. This is especially true if you've lived an otherwise healthy life and don't know much about fibroids and their impact. But the best way to ease your concerns, get your questions answered, and find treatment options that work best for you and your unique situation is to have an open conversation with your doctor.
Uterine fibroid embolization (UFE) is the gold standard in non-surgical fibroid treatment. Rather than a hospital stay, UFE is a same-day outpatient procedure. In fact, at Fibroid Institute Texas, we offer UFE to patients in the comfort of our offices equipped with advanced medical technology.
The expert doctors and specialized team at Fibroid Institute, with Dallas and Houston fibroids treatment clinics, have helped thousands of women discover the joys of living fibroid free. With each UFE procedure, patients are empowered to achieve their full potential without being limited by fibroid symptoms. For many women, the UFE procedure changed their lives. Meet some of these women here:
Request a free 10-15 minute phone screening to determine if you are eligible. After the screening, if you qualify for UFE, you can schedule your onsite or telehealth consultation. Most major medical insurance providers cover the cost of UFE.
Call for an appointment with Fibroid Institute Dallas at 214-838-6440 or with Fibroid Institute Houston at 713-903-3733 or complete the form below.
Fibroid Institute Texas serves the Dallas and Houston areas including Highland Park, University Park, Park Cities, Garland, Mesquite, Richardson, Dallas, Sherman, Houston, Sugar Land, Katy, Webster, Clear Lake, The Woodlands, Universal City, Spring, Kingwood, Stafford, Conroe, Texas City, Cypress, League City, Bellaire, Addison, Carrollton, Plano, Frisco, McKinney, Allen, Fort Worth, Grand Prairie, HEB, Arlington, Hutchins, Irving, Duncanville, DeSoto, Cedar Hill, Lancaster, Cockrell Hill, and more.
Prior to starting any new treatment or if you have questions regarding a medical condition, always seek the advice of your doctor or other qualified health provider. This information is not a substitute for professional medical advice.
*Patient stories are true. Names and/or photos may be changed to protect patient confidentiality.