There are several treatment methods for uterine fibroids and the symptoms they cause. Traditionally, surgery was the most widely acceptable treatment option. However, surgery often involves many risks, complications and potentially negative side effects.
Hormone medications can be used to reduce heavy menstrual bleeding and pain. The medications can be given in the form of birth control pills, which can reduce and regulate bleeding, but they don't shrink the fibroids. Another form of hormone treatment is through an injection that is given every three months. The injections will reduce bleeding and shrink the fibroids. These medications sometimes cause unpleasant side effects, and the fibroid symptoms usually return quickly when the medications are stopped. So, the injections are not a good long-term solution.

A longer-term alternative is to have an intrauterine device (IUD) containing hormones placed into the uterus. It releases small amounts of hormone into the uterus to reduce menstrual bleeding. All these treatments will also prevent pregnancy.
There are several techniques to destroy the inside lining of the uterus, which is the part that causes the heavy bleeding. All the techniques involve the gynecologist placing a thin instrument into the uterus through the cervix. The lining is then destroyed using heat, laser, electricity, microwaves, or freezing. When the endometrium heals, it forms scar tissue, which minimizes bleeding. This treatment is not used for women who still want to get pregnant. It will not shrink fibroids, so it has no effect on the symptoms caused by fibroids pushing on other structures.
In this procedure, MRI is used to focus a high-intensity ultrasound beam on a fibroid to break it down. This technique is still being studied and is not yet widely available. It is not covered by insurance.
Uterine Fibroid Embolization (UFE) is a minimally invasive targeted procedure that cuts off the blood flow to all the fibroids, causing them to die and shrink. UFE is a low risk non-invasive, out-patient procedure that is an alternative to traditional surgery offering minimal side effects. Pain and discomfort is minimal, and your recovery time is reduced to days instead of weeks or months.
A surgical procedure can be performed to remove the fibroids without taking out the uterus. This is called myomectomy. If there is a fibroid inside the uterine cavity or pushing on the inside lining, sometimes it can be removed through the vagina. This procedure is called hysteroscopic myomectomy. Some fibroids can be removed using only small incisions in the pelvis in a procedure called laparoscopic or robotic myomectomy. If the fibroids are too big to be removed through the small incisions, sometimes a full incision is required, like the one made for a hysterectomy. This is called open myomectomy.
Sometimes a procedure called Acessa can be performed during a laparoscopy to treat fibroids. In the Acessa procedure a small probe is placed into a fibroid and heated up to destroy the fibroid. This procedure is good for patients that have only a few fibroids. For women with multiple large fibroids or fibroids that are hard to get to, Acessa is not a good choice. It is also not covered by most insurance companies.
During a hysterectomy, the entire uterus is removed. This will remove all the fibroids. If the ovaries are left in place, it is commonly called a "partial hysterectomy." If the ovaries are also removed, the procedure is called a "total hysterectomy." Like a myomectomy, a hysterectomy can be performed several ways. If the uterus is not too big, it can sometimes be taken out through the vagina. While this sounds strange, a transvaginal hysterectomy can have a shorter recovery time than other techniques. Sometimes small incisions are made in the abdomen to provide assistance with a laparoscope, known as a laparoscopically assisted transvaginal hysterectomy.

Alternatively, the uterus can be taken out through the abdomen either using a laparoscope or robot for assistance with small incisions. For many women with fibroids, the uterus is too enlarged to be taken out through the small incisions. These women require an open hysterectomy with the typical full-sized incision.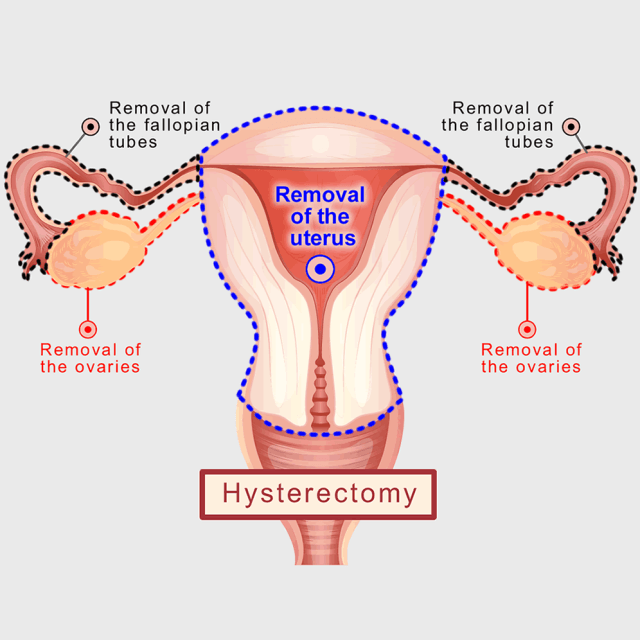 See and hear how UFE has improved the lives of our patients.
My doctor told me I needed a hysterectomy
Lynne was diagnosed with fibroids and had a myomectomy. After her myomectomy Lynne found that she still had fibroids so it was recommended that she get a hysterectomy. Lynne decided against a hysterectomy when she discovered that UFE was a better alternative. After her successful UFE procedure and full recovery Lynne has become an advocate for women wanting to treat their fibroids without having to endure the loss of her uterus and long recovery time associated with a hysterectomy.
I'm literally pain free
Pamela was troubled with heavy menstrual flow, but her biggest concern was the pressure symptoms she was experiencing. She had pain during and between her periods, pelvic pressure, back pain, constipation, and urinary frequency. Although it's unusual to get results so soon after UFE, she is pain free one week after the procedure.
I should have had this done years ago
Ruby is a 46-year-old woman who has suffered terrible symptoms with her periods for years. Her flow was so heavy that she was going through two full packs of pads each cycle. With her heavy flow and severe cramping pain, she was staying home from work a day or two each month. The pelvic pressure, back pain, and frequent urination were interfering with her life. But she didn't want to have surgery. She heard about Dr. Slonim and Uterine Fibroid Embolization on the radio.
A hysterectomy did not fit into my work life
Tamiko was seriously considering a complete hysterectomy. Due to her work, being immobilized for eight weeks was not an option for her. Hearing about the UFE procedure and Dr. Slonim transformed her outlook and offered Tamiko hope. Tamiko commented that Dr. Slonim was so easy to talk to, you feel like she's your new best friend. The UFE procedure is a very quick process. Dr. Slonim makes the time to call and check up on how you are doing after the procedure.
See why so many patients have already selected Dr. Suzanne Slonim for their fibroids treatment.
Experience for yourself what Patient Centered Care is all about.