How To Know If You Have Fibroids
Fibroids are typically discovered by your doctor or gynecologist during a routine physical examination. A pelvic examination allows your doctor to feel the size and shape of your uterus. If your uterus is enlarged or irregularly shaped, then fibroids may be present. Alternatively, you may notice new symptoms, which sometimes indicate fibroids are present. If your doctor suspects fibroids are present, she will follow the process below to determine the validity of her suspicions.
Just by taking a good history of a woman's symptoms, a doctor can get a good idea of whether or not a woman is likely to have fibroids. Fibroids are so common that if a woman has several of the symptoms, the chances are high that she has one or more uterine fibroids.
A normal uterus usually cannot be felt by pressing on a woman's abdomen or pelvis. Fibroids often cause the uterus to enlarge. When a doctor feels a woman's abdomen, or when she does a pelvic exam, she can often tell if the uterus is enlarged and even feel the fibroids.
The simplest and quickest imaging study to look for fibroids is a pelvic ultrasound. The ultrasound can show if there are fibroids in the uterus and can give an idea of the size of each one. It's an excellent screening tool. To get a more detailed look at the anatomy, sometimes an ultrasound is performed by putting the probe in the vagina.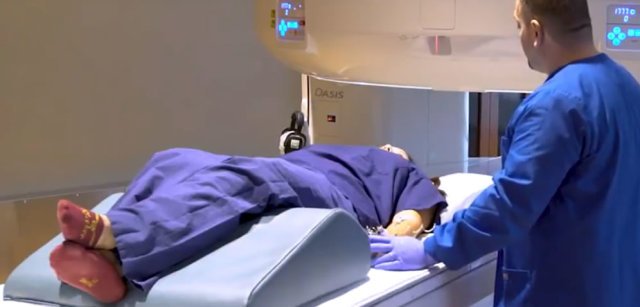 To get the most information about the fibroids, MRI is the best imaging technique. It clearly demonstrates fibroids that don't show up on ultrasound. MRI gives the most detail about the sizes and positions of the fibroids in the uterus. It clearly shows what the fibroids are pushing against. MRI can also show other potential sources of symptoms a woman may be having. Before uterine fibroid embolization is performed, an MRI is obtained.
See and hear how UFE has improved the lives of our patients.
My doctor told me I needed a hysterectomy
Lynne was diagnosed with fibroids and had a myomectomy. After her myomectomy Lynne found that she still had fibroids so it was recommended that she get a hysterectomy. Lynne decided against a hysterectomy when she discovered that UFE was a better alternative. After her successful UFE procedure and full recovery Lynne has become an advocate for women wanting to treat their fibroids without having to endure the loss of her uterus and long recovery time associated with a hysterectomy.
I'm literally pain free
Pamela was troubled with heavy menstrual flow, but her biggest concern was the pressure symptoms she was experiencing. She had pain during and between her periods, pelvic pressure, back pain, constipation, and urinary frequency. Although it's unusual to get results so soon after UFE, she is pain free one week after the procedure.
I should have had this done years ago
Ruby is a 46-year-old woman who has suffered terrible symptoms with her periods for years. Her flow was so heavy that she was going through two full packs of pads each cycle. With her heavy flow and severe cramping pain, she was staying home from work a day or two each month. The pelvic pressure, back pain, and frequent urination were interfering with her life. But she didn't want to have surgery. She heard about Dr. Slonim and Uterine Fibroid Embolization on the radio.
A hysterectomy did not fit into my work life
Tamiko was seriously considering a complete hysterectomy. Due to her work, being immobilized for eight weeks was not an option for her. Hearing about the UFE procedure and Dr. Slonim transformed her outlook and offered Tamiko hope. Tamiko commented that Dr. Slonim was so easy to talk to, you feel like she's your new best friend. The UFE procedure is a very quick process. Dr. Slonim makes the time to call and check up on how you are doing after the procedure.
See why so many patients have already selected Dr. Suzanne Slonim for their fibroids treatment.
Experience for yourself what Patient Centered Care is all about.